Protesters call for action on contract workers
TEMPORARY HIRINGS: Demonstrators questioned the government's refusal to allow long-term contract workers to accrue seniority and arbitrary dismissals
All long-term government contract workers should be made regular employees and compensated for lost seniority, labor rights advocates said yesterday, in a protest outside the Ministry of the Interior.
Rights campaigners wearing white masks blocked off a road outside the ministry and lay on the ground to spell out the Chinese characters for "Give back annual salary" with their bodies, referring to renumeration that comes with seniority.
They said the white masks symbolized the silencing of government contract workers.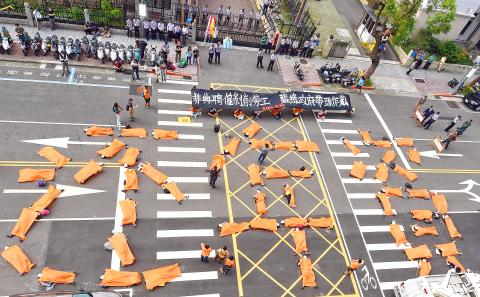 Protesters lie down on the street to form Chinese characters that read, "Give back annual salary" outside the Directorate-General of Personnel Administration in Taipei yesterday. They are protesting at what they feel are unfair work contracts.
Photo: Liu Hsin-de, Taipei Times
"The government presses on the throats of long-term contract workers and says that if they dare to come forward and fight for their rights, they will not have a job next year," National Alliance for Workers of Closed Factories member Wu Jing-ru (吳靜如) said, referring to former freeway toll collectors and National Taxation Bureau employees.
Former toll collectors composed the bulk of the protesters, with a number of unions also sending representatives.
Campaigners lying on the roadside covered themselves in orange cloth, the same color as the uniforms of the former toll workers, who were laid off two years ago after a nationwide system of electronic eTag toll collections took effect.
Former Freeway Toll Collectors Self-Help Organization president Sun Hsiu-luan (孫秀鑾) said that because toll workers were employed on annual contracts, they did not accumulate seniority no matter how long they were employed, sharply reducing the value of the severance pay to which they were entitled.
The laid-off workers had been employed for 13-and-a-half years on average, she said.
Taoyuan Confederation of Trade Unions chairman Chuang Fu-kai (莊福凱) questioned the legality of the government's refusal to allow long-term contract workers to accrue seniority, stating that the Labor Standards Act (勞動基準法) stipulates that workers can be considered "temporary" workers only when they are employed short-term or seasonally.
Anyone employed for more than one year is considered a long-term employee under the act, he said.
Taipei City Confederation of Trade Unions board of supervisors convener Chiang Wan-chin (蔣萬金) said that contract employees are often fired arbitrarily following elections to allow supporters to be awarded positions.
In a later protest outside Democratic Progressive Party (DPP) headquarters, Former Freeway Toll Collectors Self-Help Organization members said the DPP has been unresponsive to their demands, refusing to take a position on reforming the government's handling of contract hiring and failing to follow up on promises to find jobs for former toll collectors within DPP-controlled governments.
Sun said that although DPP Chairperson Tsai Ing-wen (蔡英文) had promised that positions would be found for the former toll collectors following last year's elections, only one out of the more than 300 ex-collectors has been given a job.
Comments will be moderated. Keep comments relevant to the article. Remarks containing abusive and obscene language, personal attacks of any kind or promotion will be removed and the user banned. Final decision will be at the discretion of the Taipei Times.