Rescued whale found dead at sea
A sperm whale that was rescued off the coast of Chiayi County last week was found dead at sea yesterday, said the Coast Guard Administration, which was part of the effort to rescue the stranded whale.
Local fishermen discovered the carcass of the 15m-long whale on a shoal in an area south of Pachang Creek (八掌溪) estuary in the county, the coast guard said.
An examination of the carcass confirmed that it was the same sperm whale that had become stranded near the county's shoreline on Oct. 15, the coast guard said.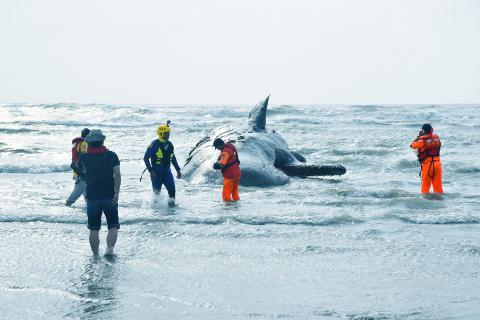 Coast Guard Administration personnel yesterday examine the beached carcass of a sperm whale in Chiayi County.
Photo: Wu Shih-tsung, Taipei TIMES
A team of coast guard personnel and marine experts had released it back into the open sea the same day.
Wang Chien-ping (王建平), director of the Taiwan Cetacean Society and Marine Biology and Cetacean Research Center at National Cheng Kung University, said the whale might have been injured before it became stranded.
Authorities are now trying to tow the carcass to Chiayi's Budai Harbor, after which it will be shipped to the research center in Tainan for an autopsy, Wang said.
Whales can become stranded for many reasons, including illness, injury, weather conditions and sonar disruption of their communication with others in their pod, marine experts said.
Comments will be moderated. Keep comments relevant to the article. Remarks containing abusive and obscene language, personal attacks of any kind or promotion will be removed and the user banned. Final decision will be at the discretion of the Taipei Times.