Nuclear safety drill concluded
IN CASE OF EMERGENCY: The AEC's response mechanism states that people within an 8km radius of a nuclear power plant must be evacuated within three days of a disaster
The Atomic Energy Council (AEC) yesterday concluded the nation's largest-ever nuclear safety drill in areas surrounding the Jinshan Nuclear Power Plant in New Taipei City's Shihmen District (石門), which included a practice evacuation of about 4,000 residents and emergency disaster response drills by the armed forces.
The scenario of the three-day drill assumed that the plant was devastated by days of torrential rain and a magnitude 6.5 earthquake that caused power and water outages, and a breakdown of the plant's cooling system, leading to reactor overheating and a hydrogen-air explosion to damage the containment buildings and emit radioactive materials, the AEC said.
However, Department of Nuclear Technology director Hsu Ming-te (徐明德) said that such a scenario is unlikely, as the plant is equipped with at least two backup diesel generators and a water pool to avoid power and water outages, and the plant director is authorized to release a buildup of hydrogen to avoid an explosion.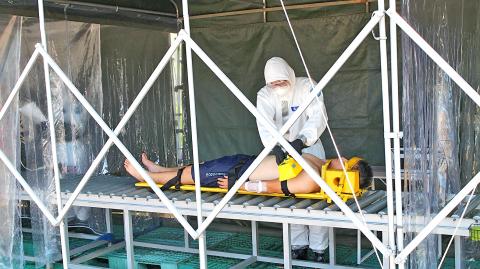 Rescuers practice how to clean victims suffering from radioactive contamination during the Nuclear Safety No. 21 Exercise in New Taipei City's Shihmen District yesterday.
Photo: Huang Chieh, Taipei Times
According to the AEC's response mechanism, residents living within an 8km radius of the plant have to be evacuated within three days of a nuclear accident, as the plant, since the 2011 Fukushima Dai-ichi nuclear disaster in Japan, is able to operate for 72 hours without external power and water supply, so a reactor meltdown and radiation leakage would only occur three days after an accident, Hsu said.
Nearly 4,000 people, or about 13 percent of people living in the area, were moved to shelters during the evacuation exercise yesterday, the AEC said.
Students at Lao Mai Elementary School and Shimen Junior High School in Shihmen were among the first to be evacuated, as children and young students are especially sensitive to radiation due to underdeveloped thyroid glands, the AEC said.
About 1,800 residents were moved to the Sinjhuang Gymnasium in New Taipei City, which could temporarily accommodate up to 4,000 people in the event of a nuclear disaster, the AEC said, adding that there are about 10 such facilities in the city that could be turned into shelters in the event of a disaster.
Responders in radiation protection suits stood guard at main arterial roads connected to the affected areas in a drill to inspect and decontaminate vehicles and those being evacuated, as well as keep radioactively contaminated patients under quarantine.
The army, air force and coast guard showcased radiation detection carriers to conduct radioactivity tests on land, sea and air, with the data collected to be instantaneously submitted to the AEC headquarters.
Asked about post-evacuation measures, New Taipei City Deputy Mayor Hou You-yi (侯友宜) said that environmental remediation and decontamination would be performed in affected areas after people are removed, adding that those evacuated could return only after radiation returns to background levels.
On Tuesday, the AEC and Taiwan Power Co (Taipower) simulated the repair of nuclear reactors, and the operation of a backup power supply system and emergency water sourcing, as well as the transportation of disaster response officials and machinery from the Guosheng Nuclear Power Plant in New Taipei City's Wanli District (萬里) by helicopter.
The drill also saw members of Taipower's repair crew transferred to Taipei Veterans General Hospital to be treated in a quarantine ward for radiation contamination and injuries.
Comments will be moderated. Keep comments relevant to the article. Remarks containing abusive and obscene language, personal attacks of any kind or promotion will be removed and the user banned. Final decision will be at the discretion of the Taipei Times.