Eric Chu says KMT-PFP alliance still a possibility
Chinese Nationalist Party (KMT) Chairman Eric Chu (朱立倫) yesterday said he remains open to cooperation between the KMT and the People First Party (PFP) in next year's presidential election, adding that he would "not give up until the end."
Both parties are striving for the good of Taiwan and "the vendettas of the last generation" should be resolved through "sincere communication," Chu said, adding that he has done a great deal of work "under the table," which "must remain unknown" to the public.
Chu made the remarks in response to reporters' questions regarding comments made on Monday by PFP presidential candidate James Soong (宋楚瑜), who said he has been "pining for the word" on a pan-blue alliance, but that the issue "depends on the KMT."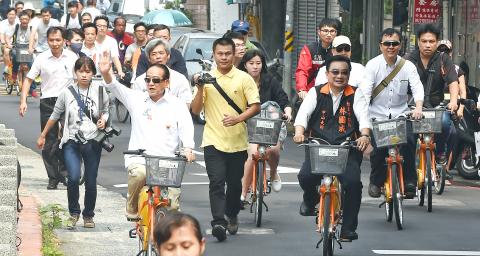 People First Party presidential candidate James Soong waves to bystanders as he rides a bicycle along Minquan W Road in Taipei yesterday. Soong was observing World Car-Free Day.
Photo: Liu Hsin-de, Taipei Times
According to the latest survey of presidential candidates released by the Taiwan Thinktank on Monday, Democratic Progressive Party Chairperson Tsai Ing-wen (蔡英文) maintains her lead (47 percent) over both Soong and KMT presidential candidate Hung Hsiu-chu (洪秀柱), with Hung at 16 percent and Soong at 13 percent.
Soong yesterday observed World Car-Free Day by riding public transportation, using the occasion to reiterate his stance on nuclear energy.
"A nuclear-free home is our common goal," he said, promising, if elected, to conduct a new round of safety inspections at the Fourth Nuclear Power Plant in New Taipei City's Gongliao District (貢寮).
Meanwhile, Hung yesterday unveiled her public housing policy.
If elected, she said she would dedicate an annual budget of between NT$20 billion and NT$25 billion (US$606.6 million and US$758.2 million) to set up a "National Housing Service," which would provide housing subsidies to families with at least one income-earner regardless of the number of dependents.
Applicant priority would be determined through a system of eligibility "points" rather than lottery, with applicants' personal accounts in the national labor pension fund providing the down payment for mortgages, Hung said.
Comments will be moderated. Keep comments relevant to the article. Remarks containing abusive and obscene language, personal attacks of any kind or promotion will be removed and the user banned. Final decision will be at the discretion of the Taipei Times.