School evaluations should include an animal adoption: rights group survey
The adoption of stray animals should be included in evaluations of school performance, animal rights advocates said yesterday, announcing the results of a national survey of school adoptions.
"When the Ministry of Education evaluates a school's 'life education,' one of the measures it should include is whether they have adopted a stray animal," Animal Protection Administration Oversight Committee board member Wang Wei-chi (王唯治) told a press conference in Taipei.
"You can not just say there are exams on related material, you need to show cases demonstrating that your 'life education' is a success," Wang said.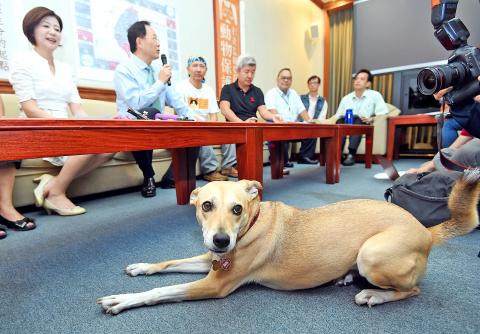 Life Conservationist Association director Ho Tsung-hsun in Taipei yesterday announces the results of a national survey of animal adoptions in schools.
Photo: Liao Chen-huei, Taipei Times
In addition to adopting stray animals, schools could also be evaluated based on how many students were involved in caring for the animal and reports on what they had learned, he said.
Wang added that schools were the key to increasing animal adoption rates. By familiarizing students with the needs of adopted animals and also increasing parents confidence that their children could be responsible for an animal's care, more animals might be adopted.
He said that more than 90,000 stray animals were caught last year nationally, with many animals euthanized if they are not adopted within 15 days.
Life Conservationist Association executive director Ho Tsung-hsun (何宗勳) said that with the euthanasia of animals scheduled to be banned in two years, the group has been working to promote animal adoption, focusing on neighborhoods as well as the nation's 3,885 elementary and secondary schools.
A survey conducted by the group showed that about 6 percent of the nation's schools have adopted a cat or a dog, with 12 percent of high schools and middle schools raising a pet, compared with only 3 percent of elementary schools.
Keelung had the highest adoption rate of 18.2 percent, while Taipei had the lowest at 3.5 percent.
Ministry of Education offical Chiu Jen-chieh (邱仁杰) said the ministry had already passed regulations regarding animals being adopted by schools and includes animal protection information in the school curriculum.
Comments will be moderated. Keep comments relevant to the article. Remarks containing abusive and obscene language, personal attacks of any kind or promotion will be removed and the user banned. Final decision will be at the discretion of the Taipei Times.