Formosan mountain dog finds 'royal' home in LA
An abused dog rescued by the Animal Rescue Team Taiwan (ARTT) has been adopted by a relative of the British royal family in Los Angeles, California.
ARTT spokesman Antony Ni (倪京台) said the stray Formosan mountain dog, named Formosa, was found in a critical condition four years ago in Nantou County.
"The dog was attacked with a sharp instrument, and its sacral vertebrae and appendix were exposed, in addition to extensive sores on its hip," Ni said. "The dog was admited to an animal hospital in Kaohsiung and made a full recovery after months of care."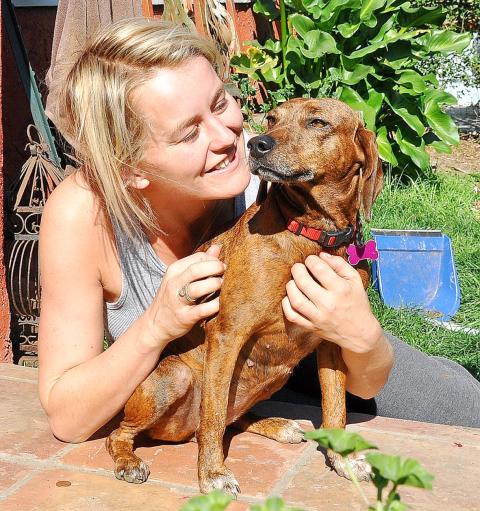 Emma Parker Bowles pets her adopted dog "Formosa," which suffered abuse before being rescued in Taiwan, in an undated photo taken in Los Angeles.
Photo courtesy of the Animal Rescue Team Taiwan
Ni said ARTT posted Formosa's story online in the hopes of finding families abroad that were interested in adoption, adding that the dog was eventually flown to the US after an animal welfare group in Los Angeles expressed interest.
It was only when volunteer workers traveled to Los Angeles to inspect the dog that they discovered Formosa had been adopted by Emma Parker Bowles, the niece of Camilla, Duchess of Cornwall, who is the wife of Prince Charles.
ARTT volunteer workers described Bowles as a "very kind person" and "a dog lover," Ni said, adding that Bowles frequently volunteered for animal welfare and rescue groups in Los Angeles.
Bowles told ARTT that she was sad to learn about Formosa's abuse and wanted to give the Formosan mountain dog a happy life.
ARTT has been operating for 20 years and has rescued more than 5,000 animals, Ni said.
Due to low domestic interest in adopting disabled animals, the team started its program for US adoption, Ni said, adding that 2,892 animals had found new homes thanks to the organization.
US groups have called ARTT's program "mission impossible," he added.
Comments will be moderated. Keep comments relevant to the article. Remarks containing abusive and obscene language, personal attacks of any kind or promotion will be removed and the user banned. Final decision will be at the discretion of the Taipei Times.