Police officer promotion 'political' move
The former chief of Taipei's Zhongzheng First Police Precinct, Fang Yang-ning (方仰寧), has been appointed head of the Pingtung County Police Bureau in the latest personnel transfer of law-enforcement officials.
Fang was the police officer in charge of events during last year's Sunflower movement.
He received condemnation for ordering police to forcibly remove protesters occupying the Executive Yuan's main chamber on March 23 and March 24, during which large numbers of people were beaten by riot police and sustained injuries.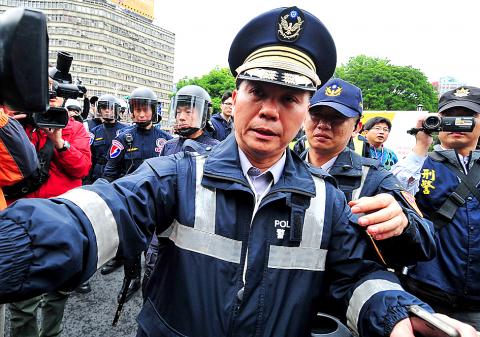 Fang Yang-ning, former chief of Taipei's Zhongzheng First Police Precinct interacts with the media outside the Legislative Yuan in Taipei on April 1 last year.
Photo: Chien Jung-fong, Taipei Times
Fang was also a central figure during a post-legislature occupation event on April 11 last year, when hundreds of student protesters and their supporters assembled outside the Zhongzheng First Police Precinct to demonstrate against Fang after he announced a denial of all further requests by civic groups for rallies or sit-in protests in areas surrounging the legislature.
Fang's appointment at the Pingtung County Police Bureau is the most notable among a list of 39 officials up for promotion and job transfers as announced by the National Police Agency (NPA) on Friday.
It is seen as another promotion for Fang, who was elevated in rank when he was transferred from his role as precinct chief to head the NPA traffic division in August last year.
Fang's new role has been interpreted by some people as a "political appointment" to reward his "faithful service in carrying out orders from above."
Pingtung County Commissioner Pan Meng-an (潘孟安) said he respects the NPA's decision.
However, Fang's promotion was criticized by those who suffered injuries arising from police brutality during the Sunflower movement.
"The NPA has been trying to cover up its blunders and wrongful handling of protesters during past year's events. Fang and other officers were not punished, rather they were given promotions. This only serves to diminish the public's trust in the police," Taiwan Solidarity Union Legislator Chou Ni-an (周倪安) said.
Chou was among the more than 160 people injured during a police crackdown on protesters during the Sunflower movement.
Lin Ming-hui (林明慧), a high-school teacher from Taichung who also sustained injuries during the protest said: "This is how the police system works. They are tools used by their superiors, and they have to carry out their objective by any possible means. If they do their job, then they get promoted."
Comments will be moderated. Keep comments relevant to the article. Remarks containing abusive and obscene language, personal attacks of any kind or promotion will be removed and the user banned. Final decision will be at the discretion of the Taipei Times.