Tsai pans 'gap' between reality and media report
'NOT THE FIRST TIME': The DPP leader said she regrets the report's inaccuracy and called on media to be more careful to respect academics and give readers the truth
Democratic Progressive Party (DPP) presidential candidate Tsai Ing-wen (蔡英文) yesterday said that she regrets the "gap" between reality and a media report on a US academic's remarks about the so-called "1992 consensus," urging the media to be more cautious when publishing reports.
When attending an Atlantic Council meeting last week on next year's presidential election, Bonnie Glaser, a senior adviser for Asia at the Center for Strategic and International Studies, said that, during a scheduled meeting between Chinese President Xi Jinping (習近平) and US President Barack Obama in Washington next month, one of the messages that Xi would convey to Obama might be that in order to have cross-strait stability, there must be an acceptance by Taiwan's next president of the "1992 consensus" and of the concept of "one China."
However, the Chinese-language United Daily News published a report on Glaser's remarks in a story with the headline quoting Glaser as saying: "Taiwan's next president must accept the '1992 consensus.'"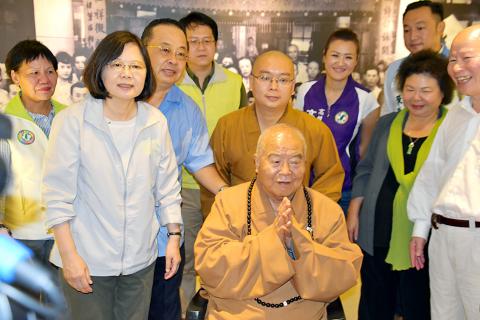 Buddhist master Hsing Yun, front, praises Democratic Progressive Party presidential candidate Tsai Ing-wen, second left, at an exhibition in Kaohsiung yesterday.
Photo: Su Fu-nan, Taipei Times
"There is a gap between the report and reality," Tsai said. "I think [the media] should be cautious when interpreting statements by any foreign academics or experts, including Glaser, because it is not only to show respect to them, but also important for readers."
"I regret what happened, which is not the first time, and I hope the media would be careful when writing reports," she added.
Tsai made the remarks when attending the opening of a special exhibition to mark the birthday of the late democracy pioneer Yu Chen Yueh-ying (余陳月瑛), who passed away last year at her residence in Kaohsiung's Ciaotou District (橋頭), which has been turned into a museum to commemorate her.
Also in attendance were local politicians and public figures, including Kaohsiung Mayor Chen Chu (陳菊), former DPP chairperson Hsu Hsin-liang (許信良) and DPP lawmakers as well as Buddhist master Hsing Yun (星雲).
Tsai praised Yu Chen for her contribution to Taiwan's democratization, and vowed to continue to deepen democratic values if elected president.
Hsing, who is often considered to be pro-Chinese Nationalist Party (KMT), spoke with Tsai and called her "Taiwan's Goddess Matsu," saying that Tsai would definitely be elected president.
Comments will be moderated. Keep comments relevant to the article. Remarks containing abusive and obscene language, personal attacks of any kind or promotion will be removed and the user banned. Final decision will be at the discretion of the Taipei Times.