'Nothing wrong' with Lien's attendance: professor
While former vice president Lien Chan (連戰) drew fire from across party lines for his decision to attend a military parade in Beijing, Shi Hsin University professor Wang Hsiao-po (王曉波) yesterday voiced support for the trip.
"I do not think there is anything wrong with Lien's decision [to attend the event] since he currently holds no government or party positions," said Wang, who also served as the convener of the Ministry of Education's controversial curriculum adjustment task force.
"Plus, I think he might intend to convince the Chinese Communist Party [CCP] to work with Taiwan to rewrite history textbooks," he said.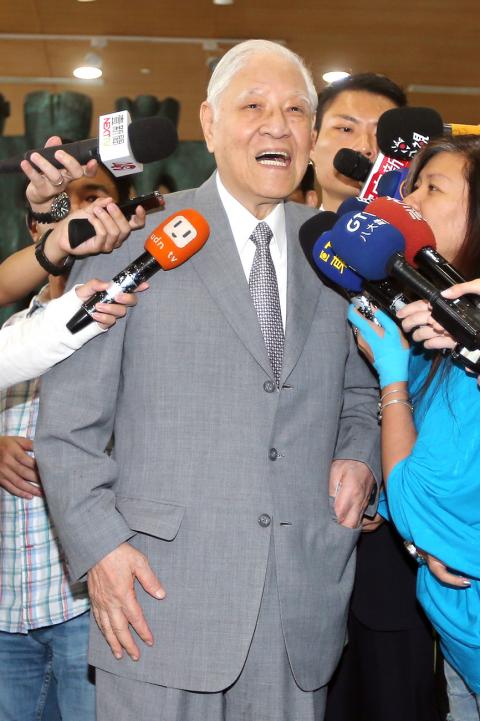 Former president Lee Teng-hui talks to the media yesterday before addressing a forum discussing the economic development of hydrogen at National Taiwan University in Taipei.
Photo: Liu Hsin-de, Taipei Times
Wang praised Lien for his trip to China in 2005, ending the warring status between the Chinese Nationalist Party (KMT) and the CCP, saying that he deserves merit for his contributions in cross-strait relations and the Chinese nation.
The contribution that Lien is expected to make during this trip is still unknown, Wang said, adding that he believes Chinese President Xi Jinping (習近平) might make a major announcement that would make Lien's trip worthwhile.
Commenting on former premier Hau Pei-tsun's (郝柏村) remarks that retired military officers should give up their pension if they decide to attend the military parade, Wang said that "whether to receive the pension is a legal issue, it's not something that Hau could decide."
He went on to say that Hau opposes the visit because his son, former Taipei mayor Hau Lung-bin (郝龍斌), is running for a legislative seat and therefore he is worried about political consequences.
Asked to comment on President Ma Ying-jeou's (馬英九) statement yesterday that it's inappropriate for Lien to attend the event, Wang said: "Ma is not in a position to say anything, whether to attend is Lien's decision to make."
Attendance by Taiwanese at China's military parade to commemorate its victory in the War of Resistance Against Japan would only have an impact on the Taiwan independence movement, and would not have an impact on Taiwan itself, Wang said, adding that it would actually scare people off who have territorial and sovereignty ambitions for Taiwan.
Separately yesterday, in response to media queries for comments on the Lien matter, former president Lee Teng-hui (李登輝) said that public perception on Lien's visit needed no further explanation from him, "Everyone knows."
Lee said Lien, also a successful businessperson, often visited China and no one minded, however, attending a military parade was "something else altogether."
On Hau Pei-tsun's insistence that other retired generals refrain from attending the parade, Lee said Taiwanese youths serving in the nation's military would not know what to think if retired generals attend the parade in China.
"These youths would definitely feel awkward when they see the people who are supposed to lead them [against a Chinese invasion] visit China and instead shake hands with the aggressors," Lee said.
Additional reporting by Huang Pei-chun
Comments will be moderated. Keep comments relevant to the article. Remarks containing abusive and obscene language, personal attacks of any kind or promotion will be removed and the user banned. Final decision will be at the discretion of the Taipei Times.