Soong denies trying to steal other parties' vote brokers
'OLD FRIENDS': Soong said that the vote brokers had campaigned for him as governor, as he drew on his vast network of municipal political contacts from that time
People First Party (PFP) presidential candidate James Soong (宋楚瑜) yesterday denied that his recent string of visits to local dignitaries across the nation was aimed at bringing vote brokers for other parties into his fold, saying he was just trying "to catch up with some of his old friends."
"These people served as the vote brokers in my campaign for Taiwan provincial governor [in 1994.] So technically, I am not bringing them into my fold, but rather bringing them back," Soong said as he paid visits to former Tainan city council speakers, including Lien Ching-tai (連清泰) of the Chinese Nationalist Party (KMT) and Li He-shun (李和順) of the Non-Partisan Solidarity Union.
The politician also visited former Tainan county commissioner Lee Ya-chiao (李雅樵) of the KMT and the mother of former Tainan city council speaker Chou Ching-wen (周清文).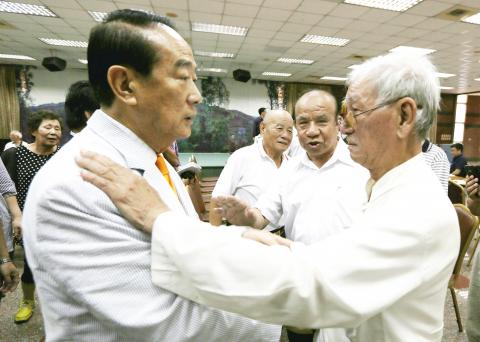 People First Party presidential candidate James Soong yesterday chats with a 90-year-old former Tainan city councilor as he visits the city to stump for votes.
Photo: CNA
Soong was fervently greeted by local residents, among whom were former township councilors and borough wardens.
Some cheered: "President Soong, winning the election," while others told the 73-year-old that they dearly missed "the era of order" when he was the provincial governor.
As the only former provincial governor who had visited 309 towns and villages across the nation, Soong said he has made many friends at the municipal level.
"Many of the people I have visited today used to fight by my side for Tainan. I would define this trip as a trip to get old friends back and make new ones. Together, we can strive for and bring new hope to our country," Soong said.
At a time when the nation's six special municipalities are all facing dire financial straits, with public infrastructure in the central and southern parts of the nation almost at a standstill, Soong said the nation must set aside the pan-blue-versus-pan-green political divide and rise above ethnic and political affiliations.
He added that harmony and collective action were much needed in Tainan's political arena.
Earlier yesterday, former Chiayi county council speaker Hsiao Teng-piao (蕭登標) also threw his support behind Soong at a memorial service for the father of a PFP member that they attended together.
"Since neither the KMT nor the Democratic Progressive Party [DPP] have managed to steer Taiwan into a better future during their respective eight-year reigns, it is time for an experienced politician like Soong to treat the country's illnesses," Hsiao said.
However, when asked whether his open endorsement meant that the entire Hsiao family, which has great political influence, supports Soong, Hsiao simply said: "I am merely supporting a friend. It does not mean anything."
Chen Ching-jen (陳鏡仁), vice president of business conglomerate Nice Group and an old acquaintance of Soong, said on the sidelines of the ceremony that, given the DPP's strong momentum, a win would be possible for the pan-blue camp only if the KMT joined hands with the PFP.
Asked which candidates he supports, Chen said he supports whoever is on the winning side.
Commenting on Soong's closely watched trips yesterday, KMT Chairman Eric Chu (朱立倫) said every candidate must make individual efforts to garner support, but stressed the need for unity.
Additional reporting by Chen Wei-tsung
Comments will be moderated. Keep comments relevant to the article. Remarks containing abusive and obscene language, personal attacks of any kind or promotion will be removed and the user banned. Final decision will be at the discretion of the Taipei Times.