'Youth group' formed to promote Hung
PUNDITRY AT DAWN: The eight members of the group are to appear on political talk shows to defend the KMT candidate and her views as part of the younger generation
Chinese Nationalist Party (KMT) presidential candidate Hung Hsiu-chu's (洪秀柱) campaign office yesterday announced the organization of a small group of "young" people to defend and promote her campaign pledges on political talk shows.
Voices of young supporters of Hung have long been underestimated on such shows, the office said.
"These young defenders, who were born in the 1970s and the 1980s, aim to shatter the public's traditional perception of how the KMT runs an election," Hung campaign office spokesman Lee Chang-chi (李昶志) told a news conference in Taipei.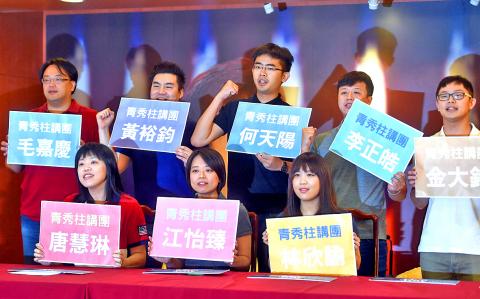 Eight people chosen by Chinese Nationalist Party (KMT) presidential candidate Hung Hsiu-chu's campaign team to defend Hung and her policies on talk shows yesterday pose during a news conference in Taipei.
Photo: Fang Pin-chao, Taipei Times
Chanting "Chu [Hung] has young people's backs and young people have hers," the eight members of the group, clad in different colored shirts, told the news conference that the various colors signified the diversity of opinions of younger generations.
Hung spokesperson Hsu Chiao-hsin (徐巧芯) said that while the group's members are young, they have experience in public affairs, are extremely eloquent and possess a unique perspective on current politics.
"They are to appear on political talk shows, preferably those deemed as leaning toward the pan-green camp, to advocate for the main principles of Hung's campaign and to increase her recognition among voters," Hsu said.
One of the eight, Mao Chia-ching (毛嘉慶) — who is deputy convener of the campaign office's propaganda department — has a higher profile than the rest of the group because of his link to the recent "rain boots" scandal.
Political pundit Wang Shih-chi (王時齊) has said that Mao asked her to send a pair of name-brand rain boots to Democratic Progressive Party Chairperson Tsai Ing-wen (蔡英文) and to have Tsai photographed in them, in what Wang said was an apparent attempt to set-up the DPP's presidential candidate.
"The silence of good people will only lead to the rise of the bad. Our society has been permeated with ill rumors that are spread and fabricated to intensify hatred and social divisions. I will not allow Taiwan to be torn like this," Mao told yesterday's news conference.
Another of the eight, Tang Hui-lin (唐慧琳), a research assistant at the KMT's National Policy Foundation think tank, said the chaos caused by a media environment monopolized by political commentators was the main reason the group was formed.
"These so-called commentators spread worthless information every day to the public that is nothing but outright nonsense. We, the younger generation, can no longer stomach this phenomenon and have decided to step up," Tang said.
Comments will be moderated. Keep comments relevant to the article. Remarks containing abusive and obscene language, personal attacks of any kind or promotion will be removed and the user banned. Final decision will be at the discretion of the Taipei Times.