Ko touts new water procedures
TIMELY MEASURES: Ko Wen-je has announced plans for water management procedures to be improved and said he would promote environmental considerations in industry
The Taipei City Government is to decide upon a new standard operating procedure to regulate water supplies in Taipei and New Taipei City during and after typhoons, Taipei Mayor Ko Wen-je (柯文哲) said yesterday.
The procedure is expected to set out rules on when the city should prepare backup water supplies if a typhoon is approaching and at what turbidity level water supplies should be cut, Ko said, adding that an assessment would be done of how long water storage facilities can supply water to the greater Taipei area after water purification plants have stopped tapping torrid raw water.
Ko made the remarks at a luncheon in Taipei attended by members of a number of environmental protection groups, who reiterated their commitment to environmental protection and objection to government policies that would allow the expansion of emission-intensive industries.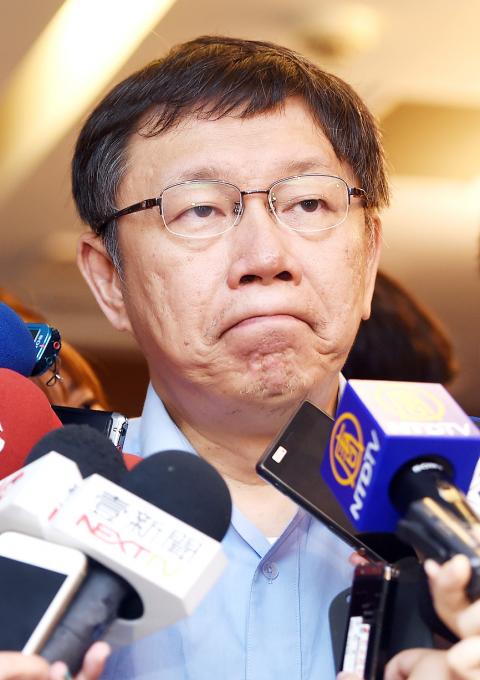 Taipei Mayor Ko Wen-je talks to the media in Taipei yesterday at a forum on water pollution organized by environmental protection groups.
Photo: Liao Chen-huei, Taipei Times
Ko said the nation has become more vulnerable to climate change, which he said calls for a new emergency response mechanism.
Citing statistics compiled by the Taipei Water Department, he said: "In the past, it would have taken a lot of rain to drive raw water turbidity to more than 10,000 nephelometric turbidity units [NTU]. Nowadays, any rain could get the number past 10,000," he said.
The mayor vowed to push for environmental conservation by defying pressure coming from parties that want to carry out developments.
"During my time as a mayor, I have come under considerable pressure from calls for developments. When I do not approve a project, I often have to deal with pressure from city councilors, other officials or construction companies, but every time after a typhoon, I discover some more problems that industrial developments would have caused," Ko said.
"From now on, we must work harder to implement soil and water conservation work, which means we must be able to stand up against pressure coming from developers," he said.
Despite an aerial image — provided on Friday by Chi Po-lin (齊柏林), who directed the documentary Beyond Beauty: Taiwan from Above (看見台灣) — showing seemingly good soil and water conservation along the Dongjhakong River (東札孔溪) upstream of the Nanshih River (南勢溪) — Ko said that "sudden" mudslides upstream of the Nanshih River most likely caused the murky tap water.
He called on all agencies involved to end the bickering over murky tap water supplied to the greater Taipei area last week after Typhoon Soudelor and focus on identifying the cause of the issue.
Ko said that the city government is to use emergency reserve funds to payment overtime to city government employees who cleaned up after Soudelor, reportedly totaling about NT$100 million (US$3.09 million).
Comments will be moderated. Keep comments relevant to the article. Remarks containing abusive and obscene language, personal attacks of any kind or promotion will be removed and the user banned. Final decision will be at the discretion of the Taipei Times.