Wang Jin-pyng dismisses team-up with James Soong
Legislative Speaker Wang Jin-pyng (王金平) yesterday said that he has not talked to People First Party (PFP) Chairman James Soong (宋楚瑜) for more than a year, in response to rumors that the two are planning to pair up for January's presidential election.
The Liberty Times (the Taipei Times' sister newspaper) cited an anonymous source alleging that Wang and Soong have been conversing "on a hotline" about potential collaboration for the next year's presidential election, with Wang as the presidential candidate and Soong as his running mate.
Wang, a member of the Chinese Nationalist Party (KMT), dismissed the report yesterday, calling it "someone's unrealistic imagination."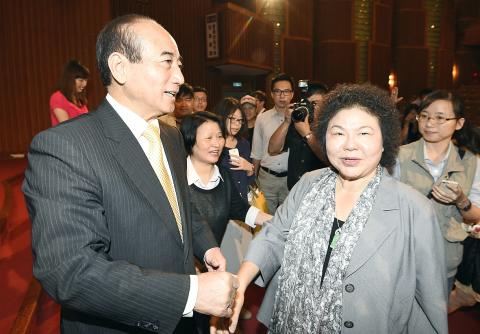 Greater Kaohsiung Mayor Chen Chu, right, yesterday shakes hands with Legislative Speaker Wang Jin-pyng, who is also chairman of the Taiwan Foundation for Democracy, after Chen delivered an address at a forum on the consolidation of Taiwanese democracy organized by the foundation in Taipei.
Photo: Chen Chih-chu, Taipei Times
"I have not talked to Chairman Soong face-to-face or over the phone for at least a year," Wang said.
PFP spokesman Clarence Wu (吳崑玉) also denied there are ongoing talks between the two, saying that similar rumors have been flying around for months, but that none of them are true.
He asked the media not to "take advantage of Wang," saying that the PFP would respect Wang's decision on his next move.
Regarding the meeting said to be planned between Soong and KMT chairman Eric Chu (朱立倫), Wu said that because the secretary-generals of the two parties are longtime acquaintances, it is easy for the two party leaders to meet up.
However, Wu said that because a meeting between the two would be criticized as "negotiations behind closed doors" if undertaken otherwise, the PFP has requested the meeting to be open to the public.
However, the KMT has not agreed to that, leaving the matter in limbo, Wu said.
Chu yesterday said that there would be no public Chu-Soong meeting, as he had already made clear, but he would keep discussing various issues with Soong.
Comments will be moderated. Keep comments relevant to the article. Remarks containing abusive and obscene language, personal attacks of any kind or promotion will be removed and the user banned. Final decision will be at the discretion of the Taipei Times.