Taipei mobile police stations begin service
Taipei's first "mobile police stations" (行動派出所) are to go on duty today.
The mobile police stations are minivans equipped with computers and other equipment enabling them to process crime reports, saving city residents a trip to a regular police station as was previously required.
Taipei Mayor Ko Wen-je (柯文哲) yesterday said the five newly commissioned vehicles were just a start, with expansion possible depending upon the results of the city's trial.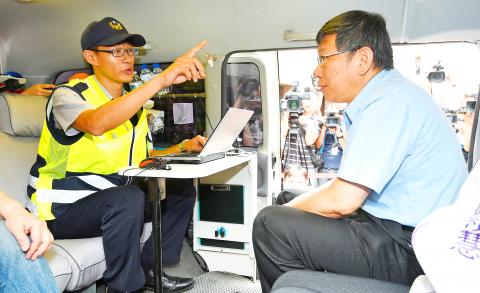 Taipei Mayor Ko Wen-je, right, listens to a police officer explain operations inside one of the city's new mobile police stations yesterday.
Photo: Chang Chia-ming, Taipei Times
"This is a test — so we did not purchase new vehicles for the experiment," Ko said, adding that adjustments could be made if the vans' ability to idle and provide air conditioning proved problematic.
As the vehicles are intended to provide additional service points, they are to carry folding tables and chairs to be set up outside the vehicle if there is insufficient interior space, he said, adding that setting up temporary tents was also a possibility.
Two of the five former police vans are to be deployed in the city's Datong District (大同) to replace two community police stations, whose officers are to be transferred to nearby stations. The vans are to be stationed for fixed periods of time at several locations within their districts with a full itinerary published online.
Taipei Police Department division chief Huang Yi-san (黃益三) said the mobile police stations were designed to reassure city residents as the city merges smaller police stations to increase police patrols, adding that a typical police station only has one to two officers available to respond to calls, with others tied down by administrative responsibilities.
Merging two stations would free up half of the officers to engage in patrols, he said, adding that the mobile police stations could also participate in patrols when not handling paperwork.
Li Hsiu-nan (李秀男), warden of a borough in which one of the police stations scheduled to be closed is located, said he had concerns about the police's ability to maintain visibility and service quality using the mobile stations, but "acquiesced" after the policy was finalized.
Comments will be moderated. Keep comments relevant to the article. Remarks containing abusive and obscene language, personal attacks of any kind or promotion will be removed and the user banned. Final decision will be at the discretion of the Taipei Times.