EPA releases eco-friendly device data
STATISTICS: Up to 312 million kilowatt-hours of electricity could be saved monthly if all households switched to EPA-certified 'green mark' products, the agency said
The Environmental Protection Administration (EPA) yesterday released statistics on reductions to last year's electricity and water consumption as a result of Taiwanese purchasing products with EPA-certified "green marks," which showed that the public can reduce carbon dioxide emissions by 223,000 tonnes per month if all 8.4 million households use such products.
The estimate was roughly equal to 603 times the carbon dioxide absorbed by trees in Taipei's Daan Forest Park every year, the EPA said.
In addition, if every household were to change to green mark products, they would save the nation as much as 312 million kilowatt-hours (kWh) of electricity per month, enough to cover the demand of the about 1 million households in Taipei for a month.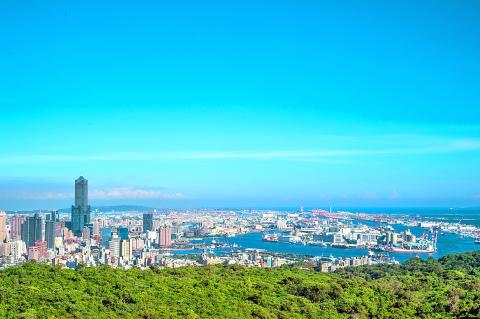 Clear skies dominate over the Kaohsiung skyline yesterday.
Photo: Chang Chung-i, Taipei Times
They would also save a total of 44.1 million tonnes of water, the equivalent of the combined capacity of 17,669 standard swimming pools, the agency said.
The products reviewed by the EPA to determine whether they meet the requirements to receive a green mark include information technology products, such as computers and monitors, as well as a range of household items, including water dispensers, fluorescent lights, electric fans and air conditioners, the EPA said.
Paper products made of recycled materials are also eligible for the vetting process, it added.
Department of Supervision, Evaluation and Dispute Resolution Director-General Hsiao Hui-chuan (蕭慧娟) said that if a household were to replace two old, energy-inefficient air conditioners with green mark units, it would be able to reduce its electricity bill by 10 percent per year.
She said that green mark products are energy efficient and therefore generate less carbon dioxide.
For example, an EPA-approved computer monitor can save at least 1kWh of electricity and produces 0.69kg less carbon dioxide per month, while a desktop computer certified by the agency can reduce electricity consumption by 3.28kWh and carbon dioxide generation by 2.26kg compared with less environmentally friendly models, Hsiao said.
The difference in energy efficiency is most obvious in refrigerators, with green mark refrigerators reducing consumption of electricity by at least 10kWh per month and carbon dioxide generation by 6.9kg, followed by dehumidifiers, which can cut at least 9.72kWh and 6.72kg of carbon dioxide monthly.
The EPA said eco-friendly products have so far helped reduce the nation's energy consumption by 144.9 million kilowatt-hours and carbon dioxide emissions by 104,000 tonnes. The agency based its calculations on the number of green mark products sold over the past year multiplied by the expected service life of the products.
Consumers can identify EPA-certified products by the green mark logo of the Earth wrapped in a green leaf.
Comments will be moderated. Keep comments relevant to the article. Remarks containing abusive and obscene language, personal attacks of any kind or promotion will be removed and the user banned. Final decision will be at the discretion of the Taipei Times.