More KMT legislators may quit
TRICKLE, FLOOD? There is strong local opposition to Chinese Nationalist Party presidential hopeful Hung Hsiu-chu's 'one China, same interpretation,' one said
Following former Chinese Nationalist Party (KMT) legislator Chang Sho-wen's (張碩文) announcement of his withdrawal from the party on Monday, two KMT legislators yesterday threatened to do the same, with one saying the cross-strait policy of presumptive KMT presidential candidate Hung Hsiu-chu (洪秀柱) was the source of her misgivings.
Chang, who was also KMT Taipei mayoral candidate Sean Lien's (連勝文) spokesperson during the campaign last year, released a statement on Monday announcing his withdrawal from the party.
He had said a day earlier that a ruling party "obsessed with a power struggle" is no longer worth supporting.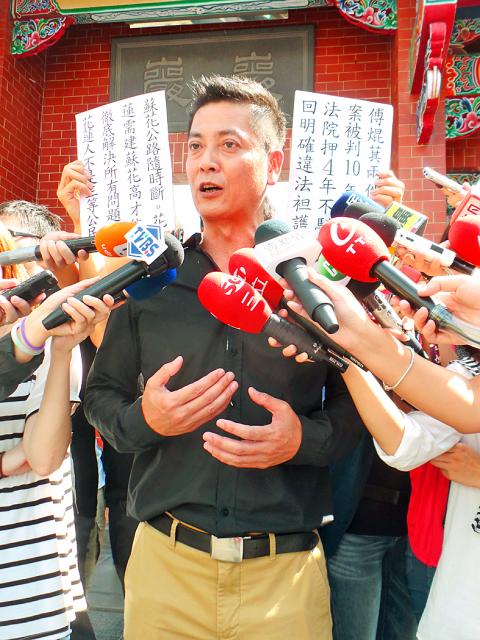 Former Chinese Nationalist Party (KMT) legislator Chang Sho-wen speaks to reporters in Taipei on Aug. 26 last year.
Photo: Kuo An-chia, Taipei Times
"I decided to leave the party to carry out more efforts that many people expect me to accomplish," Chang said in the statement, adding that a political party should serve the public, rather than be "a fetter restricting individuals."
Chang said that he left the party because he "came from the people, and as the KMT is now walking in the opposite direction from the people, I of course have to go back to the people."
He is said to have planned to run for a legislative seat on the People First Party's ticket, challenging Democratic Progressive Party (DPP) Legislator Gao Jyh-peng (高志鵬) in New Taipei City's Sanchong District (三重).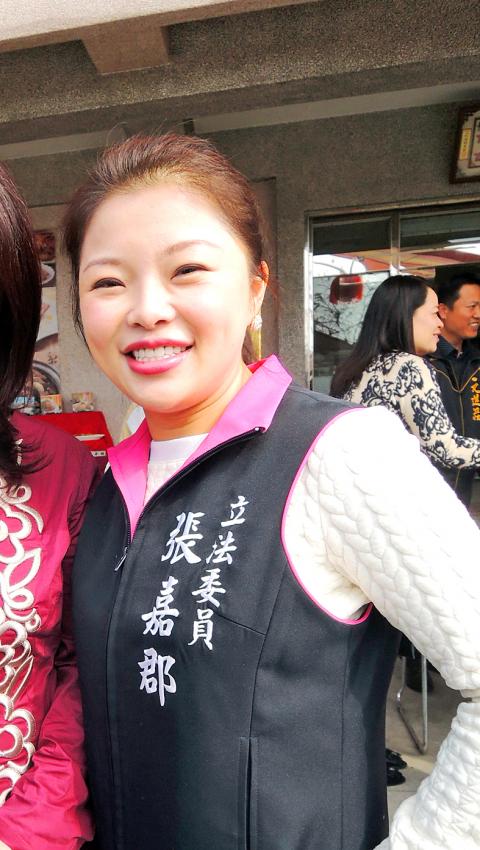 Chinese Nationalist Party (KMT) Legislator Chang Chia-chun poses at an event in Yunlin County on March 30.
Photo: Liao Shu-ling, Taipei Times
KMT Legislator Chi Kuo-tung (紀國棟), who failed to secure the party's nomination to run in Taichung, said the KMT "has no regard for party members' thoughts and deeds."
After a high-level party member said that it is better to have the party lose members than to have members without a sense of identity, Chi said of course members should have a sense of party identity, but the party has to make itself worth identifying with.
"We do not need enemies when we have members aspiring for a smaller party," Chi said.
When asked whether he would join the legislative race with another political party, Chi said it is too early to say, as the election is six months away.
However, he also underlined his resolution to run.
KMT Legislator Chang Chia-chun (張嘉郡) said she would consider withdrawing "if the party cannot be an open party, as it said it would be."
Already nominated by the KMT to run for a third term in Yunlin County, Chang Chia-chun said there is strong opposition at the local level against Hung's "one China, same interpretation."
"I myself consider [Hung's cross-strait policy] an idea that has gone off the track of the KMT's consensus," she said.
Chi agreed that Hung's proposal has had "obvious impacts," as "same interpretation and respective interpretations are miles apart."
KMT Legislator Wu Yu-sheng (吳育昇) agreed that Hung has to adjust her cross-strait proposal so it would not harm the party's legislative election prospects in central and southern Taiwan.
"I cannot blame Chang Chia-chun; I cannot even blame the DPP for categorizing Hung as a 'unificationist,'" Wu said. "There will be pressure for Hung to make adjustments — and it will not be coming from the DPP, but from the KMT itself."
Wu added that it is not difficult for Hung to make adjustments to her proposal, as the discussion for setting up reciprocal offices between the two sides of the Taiwan Strait has already been under way; the basic underlying logic of the measure is mutual recognition of one China, but employing different words for it, he said.
Hung simply has to revise the proposal "and make it consistent with the party's" before July 19, the date of the party congress, Wu said.
Comments will be moderated. Keep comments relevant to the article. Remarks containing abusive and obscene language, personal attacks of any kind or promotion will be removed and the user banned. Final decision will be at the discretion of the Taipei Times.