WATER PARK INFERNO: Organizer apologizes as investigation begins
The organizer of Saturday's "Color Play Asia" party at Formosa Fun Coast (八仙海岸) apologized yesterday morning for the explosion and fire that led to massive injuries at the event on Saturday night, while promising to accept responsibility.
"We need to apologize to the families. I am very sorry that something like this happened," local marketing firm head Lu Chung-chi (呂忠吉) said, referring to the incident in New Taipei City's Bali District (八里).
"I will shoulder the ultimate responsibility," Lu said at the Shilin District Prosecutors' Office in Taipei where he was questioned.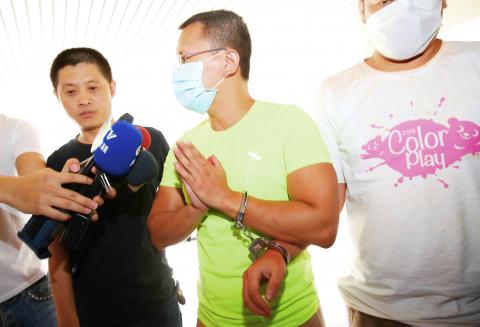 Lu Chung-chi, organizer of Saturday's Color Play Asia party at Formosa Fun Coast in New Taipei City's Bali District, talks to reporters yesterday as he and others are taken to the Shilin District Prosecutors' Office in Taipei in handcuffs.
Photo: CNA
Lu and employees who were responsible for special effects and equipment at the party had been questioned overnight by authorities before being transferred to the prosecutors' office in the morning.
Prosecutors are to investigate whether Lu knew that the colored powder was flammable and whether he had warned partygoers about the hazard.
In an earlier TV interview, Lu said that he used cornstarch colored with food dye to create the colored powder, adding that it was safe for the intended use.
Lu was released on bail of NT$1 million (US$32,121).
Meanwhile, DJ Alyshia .L, who hosted the event, apologized to her fans who attended the party because of her.
"I'm fine, but I almost died. I hope everyone is okay," she said on Facebook. "I feel really sorry for my fans, and I am very sad that such a tragedy happened."
She said that she felt like it was the end of the world when the explosion occurred, leaving her in tears, and blamed herself for injured fans, but she then immediately joined other performers in assisting partygoers.
In addition, Wang Liang-kai, who is suspected of using the chaos caused by the expolsion and its aftermath to steal from other people at the park, was arrested and questioned by police.
The incident occurred at about 8:30pm on Saturday, when dust-like colored powder apparently burst into flame near a stage.
Just under 500 people were injured, many suffering severe burns, with 202 listed as being in serious condition at press time last night.
Lu immediately kneeled down and apologized again after he was released from the prosecutors' office.
"No one wanted this to happen. I have watched the news, and it hurts to see so many people being harmed," he said. "I have also suffered from burns, and I know how much they hurt. I really do not know what I can do to make up for it."
Comments will be moderated. Keep comments relevant to the article. Remarks containing abusive and obscene language, personal attacks of any kind or promotion will be removed and the user banned. Final decision will be at the discretion of the Taipei Times.