Professor announces decision to join NPP
Despite having sought a Democratic Progressive Party (DPP) nomination for next year's legislative election, Soochow University associate professor Hsu Yung-ming (徐永明) yesterday announced that he would join the New Power Party (NPP) and withdraw from running for district representation.
"I've never joined any political party, but since I agree with the NPP's ideologies and would like to share the responsibility with my friends in the NPP to create a new political party with progressive values, I hereby announce that I am joining the party," Hsu told a news conference at NPP headquarters in Taipei yesterday.
"I have also decided to withdraw from running for the legislative seats representing the eight electoral districts in Taichung, including Fengyuan (豐原), Shigang (石岡), Shinshe (新社), Dongshi (東勢) and Heping (和平), and plan to support DPP nominee Hsieh Chih-chung (謝志忠)," he added.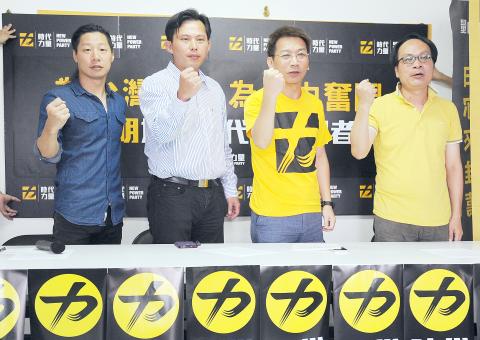 Soochow University associate professor Hsu Yung-ming, second right, is joined by Freddy Lim, left, and Lin Feng-jeng, right, both members of the New Power Party (NPP) leadership, and NPP party member Huang Kuo-chang, as Hsu announces that he is joining the NPP at a news conference at the party headquarters in Taipei yesterday.
Photo: Liu Hsin-de, Taipei Times
Hsu said his father is a native of Shengang District (神岡), and his mother comes from Fengyuan, which is why he decided to help NPP candidate Hung Tzu-yung (洪慈庸) and the DPP's Hsieh in their respective electoral districts, rather than running himself.
Asked if he would choose to represent the NPP in other districts, Hsu said he has to keep the promise he made to supporters in the district, which means running in another district would not be an option, adding that he would only play a helping role.
However, when asked if he would seek to be on the NPP's at-large list, Hsu did not give a direct answer, saying only that his promise so far is not to run in Taichung's eight electoral districts.
Academia Sinica research fellow and NPP member Huang Kuo-chang (黃國昌) said that the NPP would not decide its at-large list in an arbitrary manner.
"We are against dated political behavior, where a few people would meet behind closed doors and come up with an at-large list. We want to allow people outside of the party to participate in the decisionmaking process," Huang said. "Of course, if everyone wants Hsu on the at-large list, he would be, and vice versa."
At a separate setting, DPP spokesperson Juan Chao-hsiung (阮昭雄) said that the party would respect each person's decision, adding that it would continue to work alongside the third political force to maximize the number of seats the DPP and its non-Chinese Nationalist Party (KMT) allies could win.
Comments will be moderated. Keep comments relevant to the article. Remarks containing abusive and obscene language, personal attacks of any kind or promotion will be removed and the user banned. Final decision will be at the discretion of the Taipei Times.