Exhibition details women's side of White Terror era
An exhibition that opened on Wednesday in New Taipei City is focusing on the lesser-known stories of women during the White Terror era, a period of political persecution in Taiwan that lasted from 1949 to 1987.
Titled "A Jail Beyond the Prison Walls," the exhibition features displays such as letters written by political prisoners to their families, and video interviews with White Terror victims, their wives, daughters and sisters. Also on display are photographs, artworks, personal notes and court verdicts, all pertaining to political prisoners during the White Terror era.
"For many years, the discussion on the White Terror era was focused on the political victims themselves — how and why they were imprisoned and their lives after prison — but we cannot exclude the stories of their families if we wish to gain a comprehensive understanding of the collective pain and suffering of our society," National Human Rights Museum Preparatory Office director Wang Yi-chun (王逸群) said.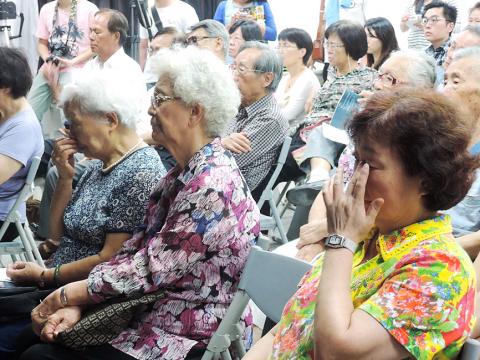 Relatives of White Terror political prisoners attend the opening of an exhibition about their experiences at the Jing-Mei Human Rights Memorial and Cultural Park in Taipei's Wenshan District on Wednesday.
Photo: Weng Yu-huang, Taipei Times
Among the items on display is a seashell painting that political prisoner Tseng Meng-lan (曾夢蘭) made in prison for his daughter Tseng Yu-pin (曾玉霦). The painting features two white cranes on a tree and is signed "from father."
In a written account, Tseng Yu-pin said her father's imprisonment had deeply affected her family and her relationships with men.
She once turned down the attentions of a young man because she did not want to get him into trouble, she said.
"Ten years of imprisonment had damaged my father, body and soul. How could he start over again?" she said.
Meanwhile, Ho Ying-hung (何穎紅) spoke of his mother's enduring love for his father Ho Chuan (何川), a school teacher who was executed during the White Terror period.
"Each year, before the anniversary of my father's death, my mother would spend over a week writing a letter to him, telling him about our lives and how the children were doing at school," said Ho Ying-hung, whose father was killed on June 17, 1951.
"If all of those letters had been kept, they would've been a great collection of work," he said.
Last month, the National Human Rights Museum Preparatory Office and Academia Sinica's Institute of Taiwan History jointly published the oral history collection A Jail Beyond the Prison Walls: Untold Stories by Female Family Members of White Terror Victims.
Through the exhibition and publication, Wang said, he hopes young people can learn more about the painful period in Taiwan's history and safeguard the country's hard-won democracy.
"Only if every young person and visitor is willing to understand their own history will these same mistakes be prevented," he said.
The White Terror refers to the suppression of political dissidents in Taiwan following the 228 Incident, an anti-government uprising in 1947 and the subsequent brutal crackdown by the then-authoritarian regime of the then-Chinese Nationalist Party (KMT). During the White Terror period, many people were killed and 140,000 to 200,000 people — many of them intellectuals and social elites — were imprisoned. The White Terror era lasted until the lifting of martial law in Taiwan in 1987. The exhibition will run until Dec. 30 at the Jing-Mei Human Rights Memorial and Cultural Park.
Comments will be moderated. Keep comments relevant to the article. Remarks containing abusive and obscene language, personal attacks of any kind or promotion will be removed and the user banned. Final decision will be at the discretion of the Taipei Times.