Pass constitutional amendments: DPP leader
Democratic Progressive Party (DPP) Chairperson Tsai Ing-wen (蔡英文) yesterday urged lawmakers to pass proposed constitutional amendments without dispute, while calling on the Chinese Nationalist Party (KMT) to refrain from "kidnapping" reform.
Attending the DPP caucus meeting for the first time in this legislative session, Tsai was greeted by loud cheers as she walked in.
She shook hands with each of the legislators, who responded by saying: "Hello, president."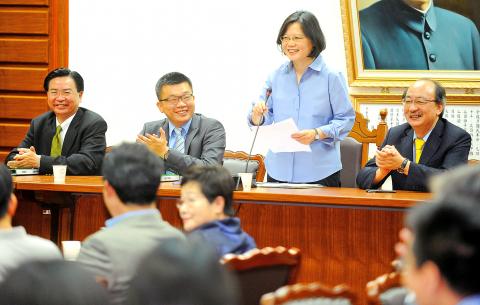 Democratic Progressive Party Chairperson Tsai Ing-wen, second right, yesterday speaks at the party's legislative caucus meeting in Taipei.
Photo: Liu Hsin-de, Taipei Times
Speaking to inaugurate the meeting, Tsai urged the caucus to put as much effort as possible into pushing for the passage of constitutional amendments.
"I hope there is concrete progress in constitutional reform this time, because there is a consensus [between the DPP and the KMT] on lowering the voting age to 18 and adjustments to the threshold for at-large legislative seats," Tsai said in response to media queries before entering the meeting room. "I hope the DPP and the KMT caucuses can speed up handling the amendments, so that they may be passed before the end of this session [on Tuesday]."
However, Tsai added that she was not fully confident that the amendments would pass, as the KMT caucus is insisting that the amendments be passed as a package, including disputed ones such as absentee voting and legislative consent to the premier's nomination.
"The DPP believes that different constitutional amendment proposals reflect different political ideologies and values, and therefore should be handled separately," Tsai said. "Any political party that considers constitutional reform its mission should not kidnap social consensus."
DPP caucus whip Ker Chien-ming (柯建銘) agreed with Tsai, saying that constitutional reform tops the DPP's must-do list in this legislative session.
Asked about Deputy Legislative Speaker Hung Hsiu-chu's (洪秀柱) campaign to represent the KMT in next year's presidential elections, Tsai said that, as a female politician, she would give Hung her best wishes.
Comments will be moderated. Keep comments relevant to the article. Remarks containing abusive and obscene language, personal attacks of any kind or promotion will be removed and the user banned. Final decision will be at the discretion of the Taipei Times.