Missiles, aircraft draw interest at drill
LEST WE FORGET: At the rehearsal the audience were urged to remember the sacrifices of the nation's soldiers, and to remember peace depends on a strong military
The armed forces held a rehearsal yesterday for exhibiting advanced weapons systems and troop combat strength of troops at the scheduled main event next month to commemorate the 70th anniversary of the end of World War II.
Held at the Hukou Army Base in Hsinchu County, the rehearsal was inspected by Chief of the General Staff General Yen Te-fa (嚴德發), who was joined by senior military officers, government officials, army reserve units and selected members of the public.
Taiwan's upgrading of its air defense in recent years was in evidence, with newly acquired US-made III MIM-104F Patriot PAC III missiles and their mobile launcher vehicles joining the parade for the first time.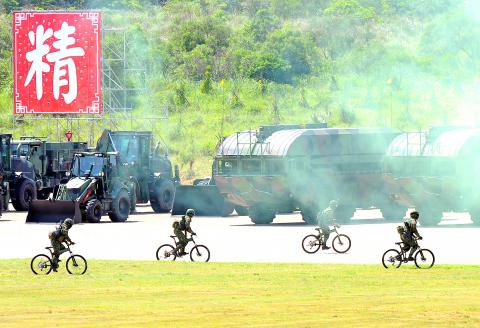 Soldiers ride bicycles at the Hukou Army Base in Hsinchu County yesterday as part of a rehearsal for a military show to be held next month to commemorate the 70th anniversary of the end of World War II.
Photo: Chang Chia-ming, Taipei Times
Also on public view for the first time were the two Taiwan's most advanced domestically produced missile systems — the Hsiung Feng-3 ("Brave Wind") and the Tien Kung III ("Sky Bow").
In his address, Yen said people must not forget the sacrifices made by the nation's soldiers and civilians during the war, and that to build a strong military is the only way to guarantee peace and stability for the nation.
Ground forces displayed various armored transport vehicles, along with M60A3 and CM-11 "Brave Tiger" main battle tanks, AAV-7 Armored Amphibious Vehicles and several mobile artillery units.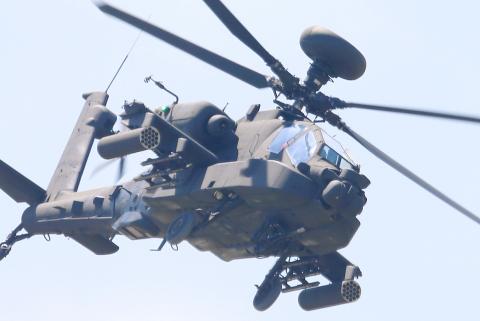 An AH-64E Apache helicopter participates in a rehearsal yesterday for an event next month to commemorate the 70th anniversary of the end of World War II.
Photo: George Tsorng, Taipei Times
Aviation units also participated in the rehearsal, with 64 aircraft of various types performing flyovers, air mobile assault maneuvers and troop-deployment maneuvers.
These included aircraft recently acquired from US arms procurement programs: AH-64E Apache helicopters, AH-1W Super Cobra helicopters, UH-60M Black Hawk helicopters and OH-58D Kiowa utility helicopters, along with the P-3C marine patrol aircraft and the twin-rotor CH-47 Chinook heavy-lift transport helicopter.
The audience was treated to a brief flyover by 30 F-16, Mirage 2000-5 and Indigenous Defense Fighter jets — Taiwan's main combat aircraft — and five AT-3 jet trainers.
Demonstrating a rapid assault drill, 16 Army Special Forces soldiers rapelled from two Black Hawks to the ground. It was the first time the Black Hawks had been included in a drill.
Another rapid assault drill had troops riding motorcycles from a CH-47SD helicopter after it landed, as well as special forces soldiers riding mountain bikes to fight a simulated enemy force.
Army Special Forces Major Chao Jen-ta (趙人達) said the fold-up bicycles are made by Taiwanese manufacturers, weigh 13kg, can be carried by the soldiers in difficult terrain, can make quick maneuvers and can help conduct stealth missions at nighttime.
Chao said the special "mountain bike" unit has been in development and training for three years, and this is the first time it has been publicly showcased.
To exhibit US aircraft that saw action in China in World War II, a replica of Curtiss P-40 Flying Tiger airplane and one of a Curtiss Hawk III fighter were mounted on trucks for display.
Ministry of National Defense officials said a total of 3,858 military personnel from 32 armed forces units, and 294 various military vehicles, participated in the rehearsal yesterday.
Additional reporting by CNA
Comments will be moderated. Keep comments relevant to the article. Remarks containing abusive and obscene language, personal attacks of any kind or promotion will be removed and the user banned. Final decision will be at the discretion of the Taipei Times.