Hydis workers sent home
SOLIDARITY: Dozens of Taiwanese supporters of laid off South Korean technology workers protested against their detention and deportation yesterday
Dozens of supporters of laid off South Korean Hydis Technologies workers demonstrated outside the National Immigration Agency in Taipei yesterday, calling for the release of eight South Korean protesters arrested and sent to a detention center on Tuesday night. The eight were later deported.
The eight, including Lee Mi-ra, the widow of former Hydis union leader Bae Jae-hyoung, who committed suicide last month after reportedly receiving legal threats from Hydis management, were arrested at about 7pm on Tuesday night and sent to a foreigners' detention center in New Taipei City, where they were thought to have been interrogated.
Bae, with workers from a Hydis factory in Incheon, South Korea, came to Taiwan in February and March to protest against a decision by Taiwanese e-paper manufacturer E-Ink Holdings to close the factory.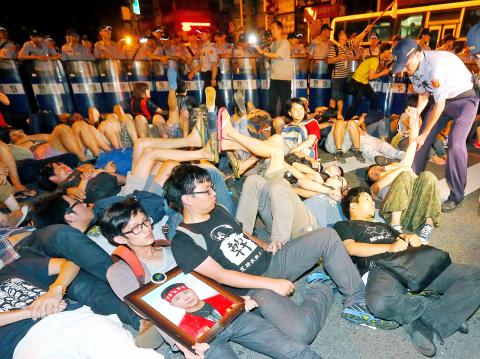 Police officers yesterday remove demonstrators from in front of Taipei's Zhongzheng First Police Precinct. The protesters were calling for the release of a group of laid off South Korean workers who had been sent to a detention center in New Taipei City.
Photo: CNA
E-Ink Holdings, which acquired Hydis — a plasma display manufacturer — in 2008, is a subsidiary of Yuen Foong Yu (YFY) Group.
The South Korean union members returned to Taiwan after Bae's death. With local supporters, they camped outside the Taipei residence of YFY Group chairman Ho Shou-chuan (何壽川) beginning on May 26 and set up a shrine for Bae.
Two South Korean union members started a hunger strike on Thursday last week.
Dozens of Taiwanese supporters gathered outside Zhongzheng First Police Precinct on Tuesday night to protest against the arrests — said to be on charges of violating the Waste Disposal Act (廢棄物清理法) and the Social Order Maintenance Act (社會秩序維護法) — as well as against the eviction of the protesters from Renai Road, the site of Ho's residence and Bae's shrine.
The demonstrators refused to disperse after warnings from police and were removed by force at about 3am yesterday, with some reporting minor injuries.
Supporters gathered again outside the immigration agency at about 9am yesterday, denouncing the detentions of the South Koreans, which they said lasted more than 12 hours.
After police issued disciplinary orders based on the Social Order Maintenance Act, the agency took over and would arrange the deportations of the eight in accordance with the Immigration Act (入出國及移民法), which states that aliens shall be forcibly deported if they are "believed to endanger national interests, public security, public order or the good customs of the state," the immigration agency said.
The Taiwan Association for Human Rights said in a press release that the workers would be deported at 3:45pm and that a news conference would be held at 3:15pm at Taipei International Airport (Songshan airport).
While reports said that the immigration agency prohibited the eight from speaking publicly, a speech in front of reporters was made possible through the mediation of Democratic Progressive Party (DPP) Legislator Yu Mei-nu (尤美女), sources said.
After a scuffle involving police, protest supporters and reporters, Hydis union member Lee Sang-mok — surrounded by officers — made a brief statement that was translated by association office director Yen Szu-yu (顏思妤).
The demonstrators had been "violently" arrested and transferred to the National Immigration Agency, where they asked that the two workers who had been on hunger strike be deported only after recovering their health, "but the request was not answered," Lee said.
"Although the time of our stay was short, we have seen candid support from Taiwanese and civic groups. Although we have to leave in this manner, we will definitely return," he said, calling on Ho to face their demands squarely "as one of President Ma Ying-jeou's (馬英九) national policy advisers."
"Retract the factory closure; retract the layoffs," Lee shouted in Mandarin before being escorted away.
Yen said the deportees would not be allowed re-entry for the next two years, but that Taiwanese would continue to cooperate with the laid off workers on the issue.
Comments will be moderated. Keep comments relevant to the article. Remarks containing abusive and obscene language, personal attacks of any kind or promotion will be removed and the user banned. Final decision will be at the discretion of the Taipei Times.