Ex-convict carves out food art career
ACCLAIMED CHEF: Hsu Fu-chuan's masterpiece, a food sculpture inspired by a Tawianese religious procession, won him a silver medal at a competition in Hong Kong
A former convict carved out a career path by teaching himself the art of food sculpture, winning a silver medal in an international culinary competition and volunteering to help juvenile delinquents turn over a new leaf.
Hsu Fu-chuan (許榑荃), 36, said he had committed several criminal offenses and served some time in prison when he was young and impetuous, but the sight of his family fretting over his future made the rebellious young man mend his ways.
He turned to the food industry with his family's support and became interested in food sculpture.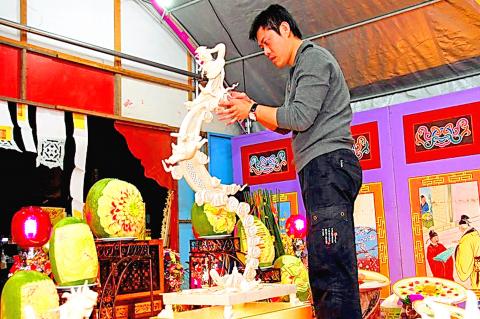 Hsu Fu-chuan uses a carving knife to sculpt fine details into an elaborate fruit sculpture in Pingtung County on Sunday.
Photo courtesy of Hsu Fu-chuan
Dubbed the "Wu Pao-chun (吳寶春) of fruit sculptors" — referring to an award-winning Taiwanese baker — Hsu is renowned for his craftsmanship and meticulous attention to detail.
Because there was no food sculptor willing to mentor him, Hsu taught himself to carve fruits by tapping the art of carpentry, which he observed at a carpenter's workshop every day.
He became penniless because he spent all his savings buying ingredients to practice food sculpting, so he harvested giant taros at night to pay his way.
He acquired two culinary certificates for Chinese food and several awards, and eventually masterpiece, a food sculpture inspired by a Taiwanese religious procession, won him a silver medal in an international culinary competition in Hong Kong in 2013.
Hsu is now an acclaimed chef in a seafood restaurant in Pingtung County and an instructor at Meiho University.
Hsu volunteered to help a social organization to support juvenile delinquents and he always tells his students to "know themselves and prove themselves over time."
He uses his youthful experiences as an example when imparting his skills to his students, hoping to prevent them from making the same mistakes he did, Hsu said.
Comments will be moderated. Keep comments relevant to the article. Remarks containing abusive and obscene language, personal attacks of any kind or promotion will be removed and the user banned. Final decision will be at the discretion of the Taipei Times.