FEATURE: Interpreter brings Taipei meetings to wider audience
At each news conference held by the Taipei City Government and during Taipei Mayor Ko Wen-je's (柯文哲) City Hall meetings with city councilors, sign-language interpreter Ting Li-fen (丁立芬) brings news about the capital to a wider audience.
Perhaps the most experienced sign-language translator in the nation, Ting, 58, said that she was drawn to sign language during college because she felt excluded when she met two students from a school for hearing-impaired people during a club event.
"I did not know sign language then and just watched them 'talk' back and forth," Ting said.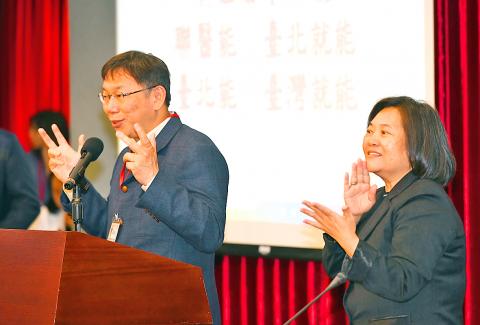 Ting Li-fen, right, a sign-language interpreter for the Taipei City Government, signs a speech by Taipei Mayor Ko Wen-je in Taipei on March 10.
Photo: Chang Chia-ming, Taipei Times
Ting said that this experience, as well as her family background, led to her vocation.
Ting's mother is a Hakka from China's Guangdong Province and her father is from China's Shandong Province and speaks Mandarin with a strong accent.
Ting's childhood was bilingual: Her father spoke only Mandarin, while her mother, an elementary-school teacher, taught Mandarin, but spoke only Hakka at home, she said.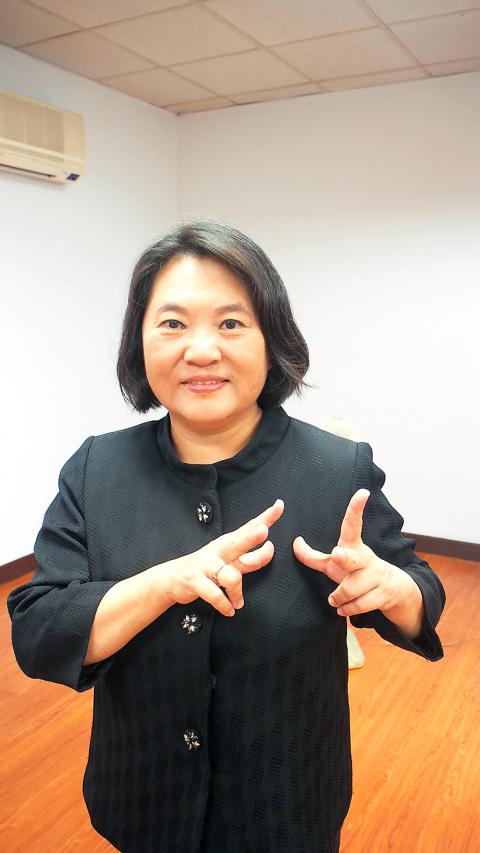 Photo: Tsai Ya-hua, Taipei Times
Her background became a cornerstone for her work, she said, adding that after learning sign language, she tried to help families with children who cannot hear or speak.
Ting said that helping parents and children understand each other allowed her to see the invisible wall between those who can hear and those who cannot.
Some parents, due to their hopes that their children would eventually become more like other children, refuse to learn sign language, Ting said.
In addition to fueling a gradual decline of negotiation between parents and children, not learning a common language could lead to a total lack of communication.
"While parents could not be blamed for the deep-rooted traditionalism that leads to such incidents, it is nonetheless sad to see," Ting said.
Ting said that the more time she spent learning sign language the more she came to enjoy it, adding that despite its employment of motions to convey meaning, it is a language just like English or Mandarin with its own unique linguistic structure.
Not long after the establishment of the Taipei Pantomime Company in 1978, which started the slow popularization of sign language in the nation, Ting, a friend and three members of the pantomime company launched the first sign-language class in Taiwan.
After starting the classes, Ting learned of real-time translation of speech to sign language and she immediately signed up for National Taiwan University of Arts classes in which she translates lessons during class.
Ting met her husband while helping teach at the university, she added.
With more than four decades in the field, Ting said she no longer gets stage fright, adding however that she has a weakness with intonation.
For example, Ting said that Ko sometimes does not speak clearly, with his words slurring together.
The key is to translate Ko's job reports as practice, she said, and she has familiarized herself with his speech patterns by listening to his speeches on the Internet.
Ting said the nine-in-one elections on Nov. 29 last year provided her most memorable work experiences, such as when she helped 78-year-old independent Taipei mayoral candidate Chao Yen-ching (趙衍慶) translate a speech into sign language.
Chao's Mandarin carries a strong Shandong Province accent, Ting said, adding that she had almost fumbled when Chao began singing in Xiaodiao (小調), a style of Chinese traditional folk song.
Ting added that she once helped facilitate communication between a doctor and a patient who had a heart problem that required surgery.
"I hope more people will learn sign language, as it not only helps deaf people, but hearing-impaired people as well," she said.
Comments will be moderated. Keep comments relevant to the article. Remarks containing abusive and obscene language, personal attacks of any kind or promotion will be removed and the user banned. Final decision will be at the discretion of the Taipei Times.