Taipei 'child protection' uproar lingers
'SPEAKING NONSENSE': A Taipei city councilor accused the police of making misleading statements, while the minister of the interior dismissed other criticism
A child protection plan revived by the Taipei City Government last week differs from a plan the city canceled in March, Taipei Mayor Ko Wen-je (柯文哲) said yesterday.
He said that the city government's announcement of the plan's cancelation in March had been "imprecise," failing to specify what was in the plan.
A fatal attack on an elementary student in a school restroom on Friday last week has drawn attention to Taipei's cancelation of the child protection plan as part of a reduction of "superfluous" duties for police officers.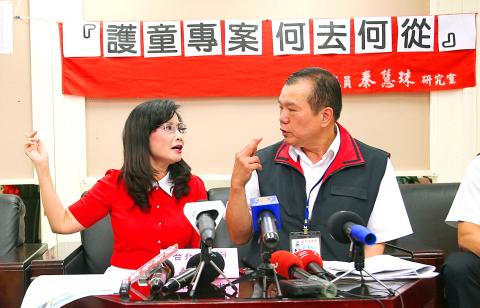 Chinese Nationalist Party (KMT) Taipei City Councilor Chin Hui-chu, left, yesterday exchanges opinions with Taipei City Police Department Deputy Commissioner Chu Cheng-lun at a press conference discussing a child protection plan.
Photo: CNA
The Taipei Police Department yesterday said that the plan canceled in March referred to traffic direction at elementary-school entrances.
Mandatory execution of such directions was canceled by the National Police Administration in 2012, with Taipei "canceling only the name" as part of a March reorganization of police duties, the police department added.
Patrols around campuses had not been affected, it said.
Ko added that semantics should not detract from efforts to improve school safety.
"Do not get caught up in explaining words; what is important is school safety and how to make students and parents feel safe," Ko said.
He brushed off questions over the accuracy of previous conflicting statements on the "revival" of the plan, saying it was not reasonable to expect the mayor to know every policy detail, while reiterating that the city would review new safety measures after a month.
Ko's remarks came as Taipei City Councilor Chin Huei-chu (秦慧珠) of the Chinese Nationalist Party (KMT) accused the Taipei Police Department of making misleading statements about the cancelation of the child protection plan in March.
While Taipei Police Department Commissioner Chiu Feng-kuang (邱豐光) said a child protection plan had not been canceled amid efforts to reduce unnecessary police duties, city government meeting records and the police department's press releases showed that a child protection plan was canceled, she said.
She accused Chiu of "speaking nonsense," while demanding that the plan be immediately reinstated in full, rather than on a temporary basis as Ko said.
Separately, Minister of the Interior Chen Wei-zen (陳威仁) dismissed Chin's claims about the child protection plan being canceled by the central government.
He said that there have been two policies that reporters dubbed a "child protection plan," which might have resulted in confusion.
The first policy was a joint effort between his ministry and the Ministry of Education called "Caring Corridors Service Stations," which aimed to increase traffic safety for children traveling to school. The plan was implemented in 2008, but terminated in 2012, Chen said.
However, a second policy, the "Police Agencies Execution Plan to Safeguard Campus Security," has been in place since its launch in 2007. Under the plan, police patrols near schools have been increased, while communication channels have also been established between schools and local police authorities, Chen said.
Comments will be moderated. Keep comments relevant to the article. Remarks containing abusive and obscene language, personal attacks of any kind or promotion will be removed and the user banned. Final decision will be at the discretion of the Taipei Times.