Long hours, low pay drive turnover: survey
Long hours and low pay are fueling surging turnover among nurses, a report released by the Taiwan Nurse's Union found.
The report found that about one-in-seven nurses left their jobs over the past year, with the number among first-year graduates significantly higher, at one out of five, while more than 70 percent of hospitals face difficulties in recruiting new nurses.
Union president Jane Lu (盧孳艷) said that a recent NT$2.5 billion (US$81.2 million) government project led by the Ministry of Health and Welfare has failed to improve working conditions for nurses as a result of lax oversight, while claims that the wages of nurses have improved were mostly false.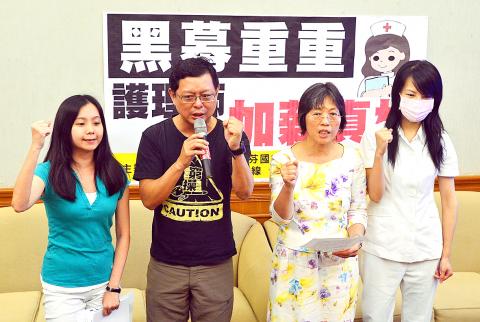 Members of labor groups including the Taiwan Nurses Union and the Taiwan Labour Front hold a news conference about nurses' salaries in the Legislative Yuan yesterday.
Photo: Wang Yi-sung, Taipei Times
Lu said that average wages for nurses have fallen from NT$41,878 two years ago to NT$40,306, adding that base pay on average accounted for just 63 percent of wages among most nurses, with the remaining 37 percent coming from various unstable sources, including bonuses, stipends for working at night or overtime pay.
She said that unreliable stipends and bonuses were used as methods of control to keep nurses silent about unreasonable working conditions, while sky-high penalty fees for breaches of contract also aimed to keep nurses from leaving their posts.
Taiwan Labour Front secretary-general Son Yu-liam (孫友聯) said government agencies should clamp down on instances of hospitals providing false information about employee wages.
Department of Labor Relations deputy director Hsieh Chien-chien (謝倩蒨) at the Ministry of Labor said that 30 percent of hospitals and clinics were fined for failing to pay employees overtime during a large labor inspection last year.
Comments will be moderated. Keep comments relevant to the article. Remarks containing abusive and obscene language, personal attacks of any kind or promotion will be removed and the user banned. Final decision will be at the discretion of the Taipei Times.