DPP councilors clash with police in New Taipei City
Dozens of Democratic Progressive Party (DPP) New Taipei City councilors yesterday clashed with police at city hall after they were stopped on the way to New Taipei City Mayor Eric Chu's (朱立倫) office to discuss a controversial public housing complex.
The DPP city councilors demanded a meeting with Chu at his office on the 18th floor after their request for Chu's presence at a city council meeting over issues regarding the complex in Fujhou (浮洲), in the Banciao District (板橋), was rejected by the city government.
Police in the lobby of the building blocked all of the entrances to upstairs offices when the first wave of clashes broke out, with New Taipei City Deputy Mayor Kao Chung-cheng (高宗正), who was there to tell the DPP city councilors led by Deputy Speaker Chu Wen-chih (陳文治), that Chu was not in the office.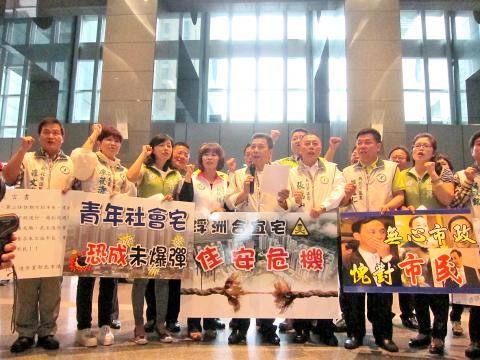 Democratic Progressive Party New Taipei City councilors hold up banners during a protest inside city hall yesterday. They were later stopped by police from entering New Taipei City Mayor Eric Chu's office.
Photo: Ho Yu-hua, Taipei Times
The police eventually yielded to the city councilors to end the melee after they shouted that Chu, also chairman of the Chinese Nationalist Party (KMT), made time to meet with Chinese President Xi Jinping (習近平) in Beijing and attend to the KMT's affairs, but not to sit down with city councilors and residents.
"Resign the KMT chairmanship. Take care of city residents instead of meeting with Xi Jinping," they said.
The city councilors scuffled with security guards outside Chu's office again before they were finally allowed to enter a reception room to wait for his return.
Buyers of the housing complex have filed complaints about the project after fissures and cracks were found in basement beams and on the walls of some of the apartment buildings after a magnitude 6.3 earthquake last month.
The housing project is also part of alleged scandals that DPP lawmakers said benefit its developer, Radium Life Tech Co (日勝生).
"Chu has shown no respect for the city council's authority to challenge the city government," DPP City Councilor Cheng Ching-lung (鄭金龍) said.
Jurisdiction over the project falls to the Construction and Planning Agency of the Executive Yuan. The New Taipei City Government was involved in the selection of Radium as the developer, and is responsible for overseeing construction and issuing licenses.
Comments will be moderated. Keep comments relevant to the article. Remarks containing abusive and obscene language, personal attacks of any kind or promotion will be removed and the user banned. Final decision will be at the discretion of the Taipei Times.