TSU demands probe into officials' roles in Chu's China trip
The Taiwan Solidarity Union (TSU) yesterday called for a Control Yuan investigation of Premier Mao Chi-kuo (毛治國) and other top officials after six public servants joined Chinese Nationalist Party (KMT) Chairman Eric Chu (朱立倫) on a trip to a KMT-Chinese Communist Party (CCP) forum in China.
"The KMT-CCP forum involves exchanges between the KMT and the CCP, but six high-ranking public servants accompanied Chu on the trip," TSU caucus whip Lai Chen-chan (賴振昌) said. "These officials are not 'specially invited experts' — according to the KMT's definition of their status — and they should not have accompanied Chu because he attended the KMT-CCP forum in his capacity as KMT chairman."
"This is a serious violation of administrative neutrality," Lai added.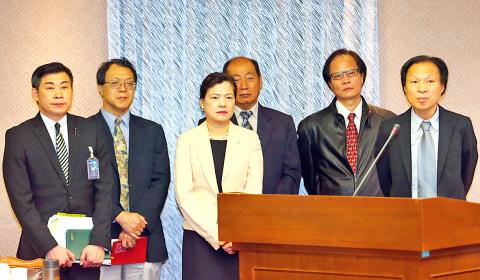 Officials who went with Chinese Nationalist Party (KMT) Chairman Eric Chu (朱立倫) to the KMT-Chinese Communist Party forum in China attend a legislative question-and-answer session yesterday regarding the trip.
Photo: CNA
The six are Mainland Affairs Council Department of Culture and Education Director Hua Shih-chieh (華士傑), Small and Medium Enterprise Administration Director-General Yeh Yun-lung (葉雲龍), Intellectual Property Office Director-General Wang Mei-hua (王美花), Ministry of Education Youth Development Administration Director-General Lo Ching-shui (羅清水), Ministry of Culture Department of Audiovisual and Music Industry Development Deputy Director-General Wang Chih-cheng (王志錚) and Agriculture and Food Agency Director Li Tsang-lang (李蒼郎).
Lai said the TSU would not file petitions directly against the six officials, since they are public servants serving under different ministries.
Instead, it would ask the Control Yuan to investigate the administrative responsibility of Mao, National Security Bureau Director-General Lee Shying-jow (李翔宙), Minister of the Interior Chen Wei-jen (陳威仁), Minister of Justice Lo Ying-shay (羅瑩雪), Minister of Economic Affairs John Deng (鄧振中), Minister of Education Wu Se-hwa (吳思華), Minister of Culture Hung Meng-chi (洪孟啟), MAC Minister Andre Hsia (夏立言) and COA Minister Chen Bao-ji (陳保基) for allowing their subordinates to go on the trip.
Comments will be moderated. Keep comments relevant to the article. Remarks containing abusive and obscene language, personal attacks of any kind or promotion will be removed and the user banned. Final decision will be at the discretion of the Taipei Times.