Tsai looks ahead as Chu attacks cross-strait views
FOCUS ON TAIWAN: Democratic Progressive Party Chairperson Tsai Ing-wen said the Chinese Nationalist Party (KMT) plays the 'cross-strait card' too frequently
Chinese Nationalist Party (KMT) Chairman Eric Chu (朱立倫) yesterday lashed out at Democratic Progressive Party (DPP) Chairperson Tsai Ing-wen (蔡英文) over what he called a lack of substance in cross-strait policy that could make feasible her pledge of maintaining the "status quo" in cross-strait relations.
"As a responsible political party or a candidate for president of the Republic of China [ROC], they can ill afford to seek the presidency without proposing cross-strait policies. They will not be able to deceive people into thinking they are capable of maintaining the 'status quo' by giving empty words," Chu said.
Chu made the remarks at a meeting of the KMT's Central Standing Committee where KMT Mainland Affairs Department director Kao Koong-lian (高孔廉) reported on the results of Chu's recent trip to China.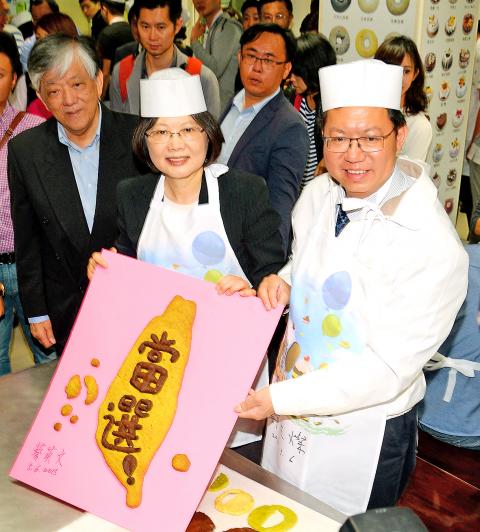 Democratic Progressive Party Chairperson Tsai Ing-wen, left, with Taoyuan Mayor Cheng Wen-tsan, right, receives a Taiwan-shaped cake with the word "elected" on it when visiting an I-Mei Foods Co factory in Taoyuan yesterday.
Photo: CNA
Taiwan belongs to everyone and the use of tactics aimed to paint the KMT "red" by associating it with the Chinese Communist Party, to slander the KMT or to wage political battle will not make Taiwan a better place, Chu said, referring to the opposition's criticism of his trip to China.
Chu urged the DPP to bravely cope with problems in cross-strait relations that face future generations.
"The KMT is steering cross-strait relations toward an era of cooperation and win-win situations based on the peace and reconciliation in the relationship the KMT has worked hard to build. Could it be that the DPP aims to turn the relationship back to an era of confrontation?" Chu said.
Responding to Chu's remarks, Tsai reiterated that she had explained her policy clearly, while calling on the KMT to focus on something more important.
"We have talked enough about Chu's visit to China, and we have clearly expressed our worries and concerns; now it is Chu and the KMT's turn to face the questions and worries that Taiwanese have about them. I hope he would give answers and solutions to those questions," Tsai said at the DPP headquarters in Taipei.
Tsai said the KMT has spent too much effort on cross-strait issues.
"We all know that playing the 'cross-strait card' cannot solve all the problems in Taiwan; we need to shift our attention back to domestic economic and social issues that truly concern us," Tsai said.
Tsai said she has been touring the nation to find the "real challenges" people are facing, adding that it is more important to help solve those issues than to relate everything to cross-strait relations.
Separately, Tsai, during a visit to I-Mei Foods Co, one of the few large manufacturers to remain relatively unaffected during the food safety crises over the past few years, vowed to safeguard food safety.
She said the DPP is designing a system that would help guarantee food safety all the way from the farm to the table.
If people have to live in fear that their food might be unsafe, "Taiwan could not be called a civilized country," she said.
Comments will be moderated. Keep comments relevant to the article. Remarks containing abusive and obscene language, personal attacks of any kind or promotion will be removed and the user banned. Final decision will be at the discretion of the Taipei Times.