Former Ma adviser slams Jinshan nuclear proposal
UNAVOIDABLE PROBLEM: Rex How wrote that the way spent fuel rods were processed at the Jinshan nuclear power plant was an invitation to a 'nuclear meltdown'
Ahead of anti-nuclear demonstrations scheduled for Saturday, former presidential adviser Rex How (郝明義) yesterday criticized the government for backing the extension of the service life of the Jinshan Nuclear Power Plant in New Taipei City's Shihmen District (石門), and drew attention to the issue of used fuel rods.
In an article published in the Chinese-language Liberty Times (the Taipei Times' sister newspaper), How slammed the government for touting the benefits of nuclear energy, while failing to address its own incompetence at nuclear waste management.
He said that there are two reactors at the Jinshan plant, and the fuel pool of the No. 1 reactor reached capacity at the end of last year.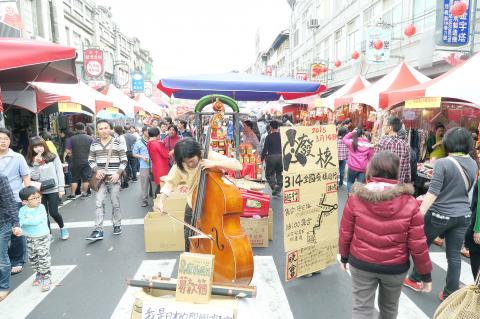 A musician from Japan busks in Tainan yesterday to raise funds for an anti-nuclear march sceheduled for Saturday.
Photo: Tsai Wen-chu, Taipei Times
The fuel pool of the No. 2 reactor will reach its capacity in March next year, meaning that there will be no more space to store the two reactors' spent fuel rods, he wrote.
On Taiwan Power Co's (Taipower) request to extend the service life of the plant for 20 years after its scheduled decommissioning in 2018, How said both the proponents and detractors of the plan have overlooked the problem of the lack of storage space for nuclear waste.
"Many who oppose extending the service life of the plant have accepted the 2018 deadline, while supporters say that with proper maintenance, the plant can remain operational until 2038. Both sides fail to address the problem of the lack of spent fuel rod storage," he said.
"Just like a person who has a three-to-five year life expectancy but whose anus has been blocked, how can he survive without the ability to void?" How wrote. "Similarly, no matter what condition a nuclear power plant is in, how can it continue to operate without any room for spent fuel rods?"
It is dangerous to use anything that has expired, not to mention powering a nuclear reactor with spent fuel rods, he said.
"No one in the world has ever tried it, yet that is exactly what Taipower plans to do," he said.
The plan has been put on hold following an incident in December last year, when a No. 1 reactor fuel rod cask handle was found to be loose, for which Taipower has said it would seek NT$1.5 billion (U$47.6 million) in compensation from French firm Avera, How said.
While that incident is to be covered by compensation, any potential accidents caused by burning spent fuel rods, on Taipower's own initiative, would not be, he said, adding that the consequences of such actions would be unthinkable and beyond anyone's ability to control.
How called on demonstrators in the upcoming nuclear march to focus their attention on the used-up fuel pool, saying that it should be decommissioned at once and so should the second pool, once it reaches capacity.
"We must be prudent of the great danger we are in, and prepare for future generations. A potential nuclear meltdown must be averted," he said.
Comments will be moderated. Keep comments relevant to the article. Remarks containing abusive and obscene language, personal attacks of any kind or promotion will be removed and the user banned. Final decision will be at the discretion of the Taipei Times.