Activists question absence of brutality probe
Antigovernment protesters lashed out at judicial officials for not investigating police officers accused of using excessive force in their response to Sunflower movement protests in March and April last year.
"We will shoulder whatever responsibilities we must and we accept the charges against us, but I regret that those police officers who cracked down on protesters using excessive force have not been pursued," Lai Pin-yu (賴品妤), a law student at National Taipei University and a member of the Black Island National Youth Front, said at a news conference yesterday. Lai was among the first protesters who seized the legislative floor on March 18 last year.
"Police brutality was clearly caught on video and in photographs, but the National Police Agency said that they could not identify those officers," Lai said. "It is quite odd that the police could identify unknown protesters, but they could not find out who the officers were when they should have information about the officers."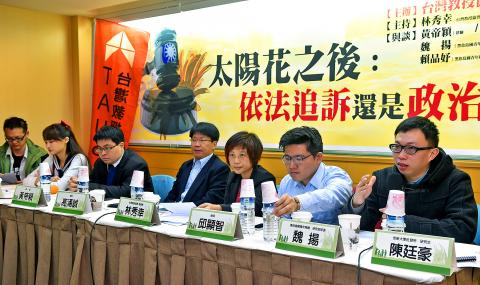 Black Island National Youth Front spokesperson Dennis Wei, right, addresses a forum organized by the Taiwan Association of University Professors in Taipei yesterday.
Photo: Chien Jung-fong, Taipei Times
Protesting against the Chinese Nationalist Party's (KMT) attempt to pass a cross-strait service trade agreement — widely considered harmful to Taiwan's economy and sovereignty — at the legislature, a group of mainly young activists entered the Legislative Yuan complex and occupied the main legislative chamber for more than 20 days.
On March 23 last year, thousands of people dissatisfied with the government's reaction to the occupation of the legislature ralied, while a few entered the Executive Yuan complex and occupied it until they were removed by police officers on the morning of March 24.
Then-premier Jiang Yi-huah (江宜樺) ordered that the Cabinet complex be cleared before office hours; police officers executed the order with what some observers describe as excessive force, with dozens of alleged incidents of police brutality involving protesters and reporters.
Dennis Wei (魏揚), who occupied the Executive Yuan, agreed with Lai.
"There are many controversial laws restraining civil liberties; we challenge these laws with civil disobedience, with the objective of improving these laws," he said. "We surely are willing to accept our legal responsibilities, but those in power should also honestly face our challenges."
Volunteer attorney Huang Di-ying (黃帝穎) said the prosecutions are politically motivated.
Academia Sinica research fellow Huang Kuo-chang (黃國昌) was charged with "incitement to committ offenses" for making a statement in support of the protesters, lauding them as defending Taiwan's democracy after the occupation of the legislature, Huang said.
"However, for Jiang, who ordered brutal attacks on protesting students and professors, nothing happened to him and instead, he is now hired as presidential adviser," Huang added.
"The judiciary is turning a blind eye to high-ranking officials; this is what we would call selective prosecution and political prosecution," Huang said.
Hung Chung-yen (洪崇晏), who led a demonstration outside Taipei's Zhongzheng First Police Precinct headquarters on April 11 last year, chastised police and the judiciary over the prosecutions of online supporters for the demonstrators.
"The state is trying to shut us up with threats; it is like the White Terror once again," Hung said.
Comments will be moderated. Keep comments relevant to the article. Remarks containing abusive and obscene language, personal attacks of any kind or promotion will be removed and the user banned. Final decision will be at the discretion of the Taipei Times.