Group urges ministry to uphold curriculum changes
The Anti-Independence-Oriented History Front asked the Ministry of Education to "toughen up" on its "minor adjustments" to the history curriculum and attributed the younger generation's "mistaken understanding about the 228 Incident" to the former Democratic Progressive Party administration and pro-independent groups' "distortion of history."
"We are anti-manipulation, anti-hatred and want the truth," the group shouted in front of the ministry yesterday, urging it not to cave in the face of "populist violence used by the pro-independence groups to blackmail the ministry," or it would become the accomplice of the "history scam gang."
The group said that the truth behind the 228 Incident has failed to be restored due to pro-independence groups' obstruction, "as they treat it as a 'political ATM,'" group convener Wang Ping-chung (王炳忠) said.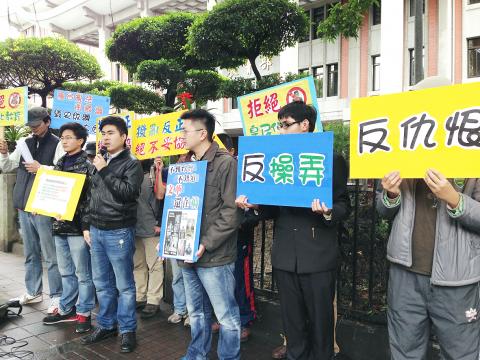 Members of the Anti-Independence-Oriented History Front protest in front of the Ministry of Education in Taipei yesterday.
Photo: Lin Hsiao-yun, Taipei Times
He stressed that there is no need to demonize or deify Chiang Kai-shek (蔣介石).
"But it is wrong to say that Chiang was responsible for a massacre, when the truth is that he [was then in China] and received information via local officials, and never ordered a massacre or post-incident reckoning with 'severe punishment,'" Wang said.
Lin Ming-cheng (林明正), a member of the group, likened recent protests against statues of Chiang with graffiti to the Chinese Red Guards' behavior.
"These people are cowards who did not dare to do things like this when the Chinese Nationalist Party (KMT) was strong, but can only do so now as now the KMT is at its nadir," Lin said.
The group also emphasized that the 228 Incident involved a group of local rioters attacking common people, including women and children, coming from China.
"According to historical documents, a great deal of weapons and ammunition were seized by local rioters. How could the government then have crushed 'innocent people without weapons?'" said Wu Chih-chang (武之璋), a "historian who has studied the incident for years," as introduced by the group.
Saying that much of the 228 Incident was "self-deserved," Wu added that if those who rose up were calling for political reform, "why were schools, factories and orphanages attacked?"
"If we are to talk about transitional justice, where is the justice for those [Chinese] who were attacked for nothing?" he added.
On the number of victims, Wu said that it is "fraudulent to claim that more than 20,000 died in the incident, as many 228 museums do."
"The most accurate number can be figured out by counting how many have applied for government compensation, which is about 600. Adding to that number the more than 100 that have gone missing would give us about 800," Wu said.
"[The 228 Incident] is actually an insignificant matter in history, but has been manipulated and transformed by the scam gang into a major massacre in the nation's history," Wu said. "This has downgraded Taiwan's civilization and academic level."
Comments will be moderated. Keep comments relevant to the article. Remarks containing abusive and obscene language, personal attacks of any kind or promotion will be removed and the user banned. Final decision will be at the discretion of the Taipei Times.