Taipei plans to rent out MRT apartments
Details for new plans to rent out city-owned apartments next to MRT stations were announced by the Taipei City Government yesterday.
"Even if there is still no way to make housing purchases affordable for young people in Taipei, at least we can make sure they have a place to live," Taipei Mayor Ko Wen-je (柯文哲) said.
Taipei Deputy Mayor Charles Lin (林欽榮) said there was no need to force young people to live far away, as the MRT system's 103 stations all have accompanying housing developments.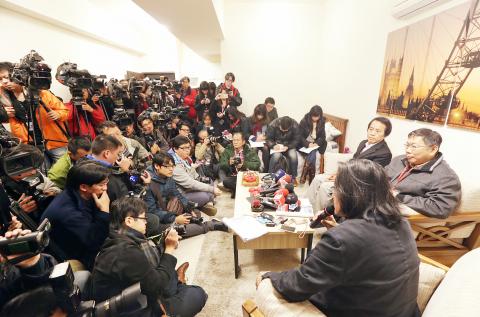 Taipei Mayor Ko Wen-je, right, and Deputy Mayor Charles Lin, second right, discuss plans for a public housing project at a media briefing at the MRT's Longshan Temple Station in Taipei yesterday.
Photo: CNA
He dismissed concerns that renting out apartments within MRT developments would negatively affect surrounding real-estate prices, saying that the apartments were of higher quality than previously constructed public housing.
According to the plans, 570 housing units next to the Longshan Temple, Gangqian, Taipei Bridge and Xindian Depot MRT stations would be opened for rental next month, with further properties to follow as other joint development projects are completed.
Li Cheng-an (李政安), head of the Department of Rapid Transportation Systems' joint development division, said his unit had chosen to sell off housing in past developments to avoid the trouble of having to manage the properties, a problem that would be addressed by the establishment of a city-owned rental company to take over responsibility.
Under the new plan, housing units are to be available for rental at rates 15 percent to 30 percent less than market price for up to six years by individuals between 20 and 45 years of age, regardless of their city of household registration. Ten percent of the units would be reserved for people from economically disadvantaged backgrounds.
An interview with Lin published on Wednesday in Next Magazine outlined the considerations behind the city's future public housing plans in more detail.
In the interview, Lin said that with publicly rented housing units composing only 0.08 percent of housing units nationwide, Taiwan lagged far behind the 5 percent average for international cities.
"This demonstrates that a government function is missing," he said. "The government has failed to regulate housing prices and care for people who need a place to live."
He said the city plans to construct and rent out 50,000 new housing units over the next eight years, which would represent 5 percent of units on the city's housing market, helping to relieve rising housing prices.
"If the Taipei City Government had rented instead of selling the more than 50,000 public housing units it constructed over the last 20 to 30 years, there would not be today's problem with high housing prices," he said.
Comments will be moderated. Keep comments relevant to the article. Remarks containing abusive and obscene language, personal attacks of any kind or promotion will be removed and the user banned. Final decision will be at the discretion of the Taipei Times.