Lawmakers passionate about their hobbies
OUTSIDE THE OFFICE: Two DPP lawmakers said that their hobbies help them relax, but say their skills have also benefited family members and party colleagues
There is more going on in legislators' lives than just drafting laws, making policy addresses and negotiating in the legislature, Democratic Progressive Party (DPP) legislators Tsai Chi-chang (蔡其昌) and Chen Chi-mai (陳其邁) said.
Tsai is a self-taught masseur, while Chen is a certified master scuba diver.
Tsai said he learned the art of massage because he has been plagued by neck pain for years.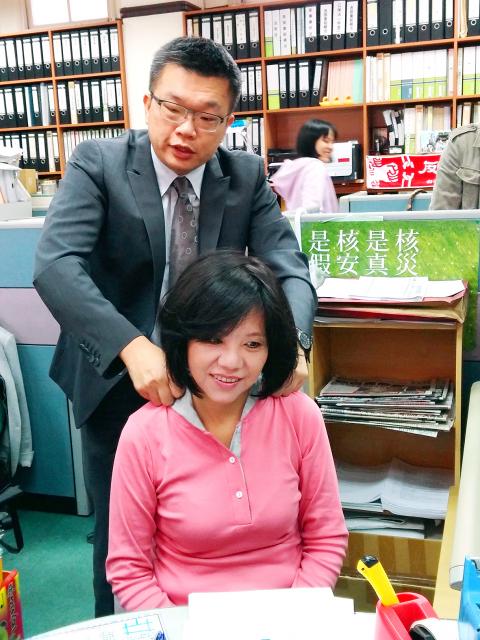 Democratic Progressive Party Legislator Tsai Chi-chang gives fellow Legislator Yeh Ye-jin a massage in his legislative office in an undated photograph.
Photo: Tseng Wei-chen, Taipei Times
He first developed neck problems when he was director of the then-Taichung County's Civil Affairs Bureau and the county's government-council liaison from 1997 to 2001, a job that strained both his body and soul, Tsai said.
SEEKING RELIEF
He tried everything from massage to acupuncture and Pilates to seeing a chiropractor to alleviate the pain, which is how he learned about the human form and its pressure points, he said.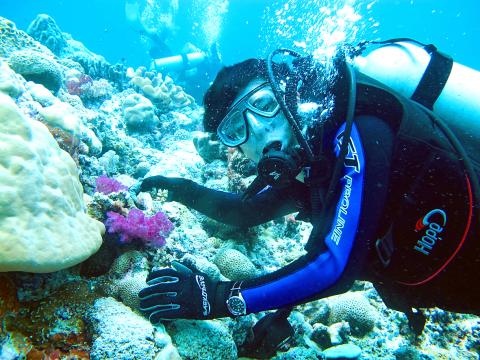 Democratic Progressive Party Legislator Chen Chi-mai dives in Palau during last year's legislative recess in an undated photograph.
Photo: Courtesy of Chen Chi-mai
His condition had been excruciating up until 2004, when he first became a lawmaker, but it has gradually abated as he learned to master his own body, Tsai said.
Massage is one of the most convenient therapies that is not spatially limited, Tsai said.
Among those frequenting his "clinic" are his mother and wife, and a short massage session relieves their soreness as he works on their pressure points, the lawmaker said.
Other legislators have also benefited from his skills.
Prior to a DPP press conference late last year, an exhausted DPP Legislator Yeh Yi-jin (葉宜津) told Tsai that she had been suffering from muscle aches for a while, so he gave her a short massage session, which helped her, Tsai said.
Tsai said everyone should learn how to relax their body and mind, and they should also learn proper training methods to build their muscles to reduce muscle aches and soreness.
Chen is equally enthusiastic about scuba diving, a passion that his wife, son and daughter have also embraced.
The entire family are licensed divers, said Chen, who also hosts of an online diving community.
Snorkeling near Kenting National Park in Pingtung County initiated him into the wonders of the undersea world, he said.
A series of discounted scuba courses offered by a diving club at National Taiwan University fueled his enthusiasm.
UNDERWATER HOLIDAYS
In addition to diving off of Green Island (綠島) and Orchid Island (蘭嶼, also known as Lanyu), Chen has visited several popular Pacific Ocean destinations in Palau, Malaysia and Indonesia, he said, adding that he had taken diving trips with former DPP legislators Chiu Tai-san (邱太三) and Lee Wen-chung (李文忠).
Scuba diving relaxes one mentally and physically, and three dives are all one needs for a perfect holiday, he said.
However, divers should also be aware of the dangers they face and should never go diving alone, he said. Raptures of the deep caused by nitrogen narcosis and decompression sickness — which can occur when a diver tries to surface too quickly — are just some of the risks, he said.
Diving in groups can minimize the risks, he said.
The waters around Taiwan and neighboring countries are diverse and beautiful, so it is a shame that so few Taiwanese learn to scuba dive, Chen said.
He said Sipadan in Malaysia was the best diving site he has visted, although Palau is his favorite spot.
Comments will be moderated. Keep comments relevant to the article. Remarks containing abusive and obscene language, personal attacks of any kind or promotion will be removed and the user banned. Final decision will be at the discretion of the Taipei Times.