DPP members protest primary rules, schedule
A group of Democratic Progressive Party (DPP) members yesterday rallied outside party headquarters in Taipei, protesting against the newly released schedule and regulations for nominating the candidate for next year's presidential election.
"The DPP officially released its regulations on nominating the next presidential candidate today, and the registration process for the primary begins tomorrow," DPP member Ku Wen-fa (古文發), who organized the demonstration with about 30 DPP members as the party's routine Central Standing Committee meeting was taking place, told reporters.
"We, as DPP members, were never consulted during the decisionmaking process, so this is a non-transparent decisionmaking process and is against the party's core values of being 'democratic' and 'progressive,'" he said.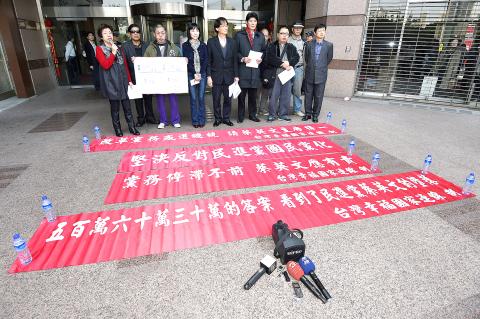 A pro-independence group yesterday holds a press conference in front of the Democratic Progressive Party's (DPP) Taipei headquarters, demanding that DPP Chairperson Tsai Ing-wen resign her party post if she wants to run for the presidency.
Photo: Chen Chih-chu, Taipei Times
In addition, Ku said that whoever intends to sign up for the primary has to pay a NT$4 million (US$127,000) registration fee, plus another NT$1 million for poll surveys on support rates.
"What would you call it other than 'money politics'?" Ku asked. "This is not what the nation's major opposition party, which receives NT$100 million in subsidies from the government a year, should do."
Ku said that he organized the protest not because he is against DPP Chairperson Tsai Ing-wen (蔡英文) or supports a DPP politician who plans to run against her.
"We are doing so for the good of the party," he said.
The protesters were met by DPP Department of Social Movements Deputy Director Chen Tzu-yu (陳子瑜), who promised to refer their petition to Tsai.
"We are certainly not satisfied with the party's response, but we will wait, and we will come back again if the party cannot give any satisfying promise in the end," Ku said, adding that he has prepared NT$10 million in cash, and will discuss with fellow protesters to see if he should sign up for the primary himself.
Comments will be moderated. Keep comments relevant to the article. Remarks containing abusive and obscene language, personal attacks of any kind or promotion will be removed and the user banned. Final decision will be at the discretion of the Taipei Times.