Tainan City Council impeaches Mayor Lai in his absence
WHILE THE CAT'S AWAY: KMT Tainan city councilors panned Lai for refusing to appear, with one councilor saying he should resign to pursue his 'imperial dream'
Chinese Nationalist Party (KMT) Tainan city councilors lashed out at Tainan Mayor William Lai (賴清德) yesterday over his refusal to attend council meetings, and decided to refer him to the Control Yuan for impeachment.
Following Tainan Council Speaker Lee Chuan-chiao's (李全教) indictment early last month over vote-buying, Lai vowed that he would boycott all council meetings as long as Lee remains in his position.
"The city council can make concessions to the mayor, but there are limits as to how much compromise we can make, and I believe we have done everything we legally can," Lee said at a news conference outside the extraordinary session of the city council. "There are laws to sanction Lai if he refuses to attend sessions of the city council.He should not try to dodge his obligation of being monitored by the city council."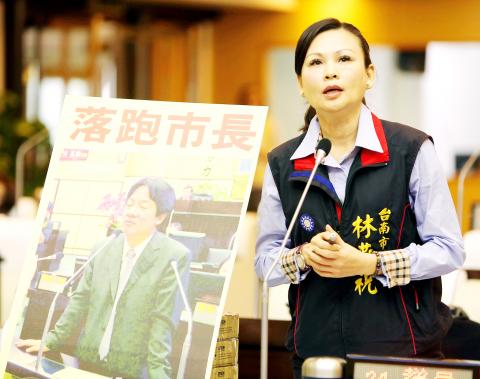 Chinese Nationalist Party (KMT) Tainan City Councilor Lin Yen-chu yesterday criticizes Tainan Mayor William Lai, pictured on the poster, over his refusal to attend meetings of the Tainan City Council.
Photo: CNA
However, KMT City Councilor Wan Chia-chen (王家貞) said that if Lai has an "imperial dream," he should just resign and announce his bid for president.
KMT City Councilor Lin Mei-yen (林美燕), condemned Lai as a "runaway mayor."
KMT City Councilor Hsieh Lung-chieh (謝龍介), echoed Lee's comments by proposing a motion to refer the mayor as well as all city officials who were absent during the meeting for impeachment by the Control Yuan.
As only KMT councilors attended the meeting, the motion was passed.
Despite the city council decision to refer him to the Control Yuan, Lai insisted on continuing his boycott.
"Despite the criticism, I will not walk into the city council as long as the legal problems surrounding Lee are unresolved," Lai said in a separate setting. "My intention is to launch a reform on local politics in Taiwan, let the light shine in, and completely wipe out money politics."
Comments will be moderated. Keep comments relevant to the article. Remarks containing abusive and obscene language, personal attacks of any kind or promotion will be removed and the user banned. Final decision will be at the discretion of the Taipei Times.