DPP lawmakers urge boycott of Zhang meeting
AIRING PROBLEMS: Despite calls for Wang Yu-chi to avoid a scheduled appointment, he said that he believed in meeting to discuss issues face-to-face
Democratic Progressive Party (DPP) lawmakers yesterday suggested that Mainland Affairs Council Minister Wang Yu-chi (王郁琦) call off a scheduled meeting with China's Taiwan Affairs Office Minister Zhang Zhijun (張志軍) to protest against China's unilateral plan to open new air routes near Taiwan's airspace.
Wang told the legislature's Internal Administration Committee that he would meet with Zhang in the first half of next month in Kinmen, the third meeting between the two men, following Wang's landmark trip to Nanjing in February last year, and Zhang's return visit to Taiwan the following June, both last year.
DPP legislators, including Chen Chi-mai (陳其邁) and Lee Chun-yi (李俊俋), told Wang that the meeting should be canceled after they learned from Wang that China has not yet responded positively to the protest registered by the government and the legislature against the air routes — M503, W121, W122 and W123 — that it unilaterally set up and plans to open on March 5.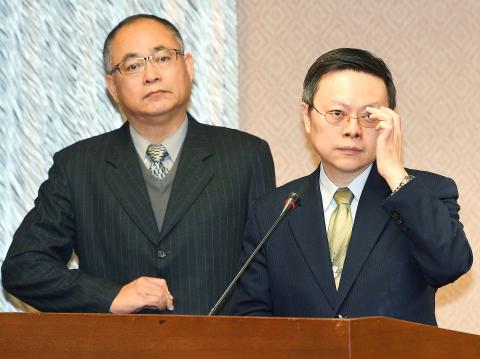 Mainland Affairs Council Minister Wang Yu-chi, right, and Deputy Minister of Transportation and Communications Wu Men-feng yesterday answer questions at the Legislative Yuan about China's proposed M503 air route, which will run close to the median line of the Taiwan Strait.
Photo: Wang Min-wei, Taipei Times
Wang disagreed, saying that he would take up the issue with Zhang over public concerns relating to the proposed air routes, as evidenced by the resolution passed by the legislature on Friday last week.
According to the Civil Aeronautics Administration, the M503 route runs nearly parallel to the median line in the Taiwan Strait, coming as close to it as 7.8km, with the other three routes running east-west and serving as feeder routes for the M503, with W122 and W123 potentially affecting flights to Matsu and Kinmen.
The routes declared by China on Jan. 12 drew the ire of Taiwan, prompting it to agree to move the M503 route westward by 7.4km.
China considered the revised route a showing of "goodwill" to Taiwan after suspicions arose about the original M503 route, but "we have insisted that it should not open new air routes without our consent," Wang told the committee.
Before government agencies are able to determine whether the revised route would compromise aviation safety and there is a consensus reached in Taiwan, China should continue to negotiate with Taiwan, Wang said.
Wang said that China last year discussed with Taiwan about the original M503 route at two working-level meetings on Dec. 22 and Dec. 29, but it did not mention its plan to open the other three feeder routes.
China went ahead and declared the opening of four routes after informing Taiwan of the date even though Taiwan had made it clear to China that "its unilateral move was not acceptable" and "would hurt cross-strait relations," Wang said.
Meanwhile, Wang told lawmakers that China has proposed that to conserve fuel and shorten flights times, both sides should establish routes directly across the Taiwan Strait, as opposed to the current procedure by which flights must enter the Hong Kong air control area before moving into or out of Chinese or Taiwanese airspace for security reasons.
China has linked the proposal to Taiwan's agenda that China allows its tourists to make transit stops in Taiwan en route to a third destination, Wang said.
"For security reasons, we would not even consider the possibility," he added.
Wang said that issues up for discussion at the Kinmen meeting include how to resolve the problem of Kinmen beaches being polluted by rubbish drifting from China, Chinese mining boats engaging in illegally dredging sea sand and fishing ships poaching in waters off Kinmen, as well as measures to boost tourism in Kinmen.
Comments will be moderated. Keep comments relevant to the article. Remarks containing abusive and obscene language, personal attacks of any kind or promotion will be removed and the user banned. Final decision will be at the discretion of the Taipei Times.