INTERVIEW: Hsinchu councilor-elect seeks to revitalize local politics
DUTCH INFLUENCE: Chou Chiang-chieh said his approach to life has been inspired by 17th-century philosopher Baruch Spinoza. He said he wants to encourge public debate
"We rode at least 30 kilometers a day, which means we covered 3,000 kilometers by bike over a span of 100 days during the campaign," Green Party Taiwan Hsinchu County councilor-elect Chou Chiang-chieh (周江杰) said of his race in the Nov. 29 nine-in-one elections.
In contrast with the ubiquitous campaign trucks blasting crackling music during election campaigns, Chou and his volunteers quietly canvassed the hilly terrain of his hometown, Jhudong Township (竹東), armed with nothing but the bright green flags attached to the back of their bikes.
Chou's victory was part of a historic day for the Green Party, which saw two of its candidates elected to public office for the first time since its establishment in 1996.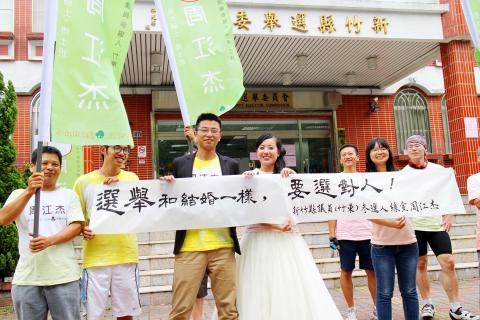 Green Party Taiwan candidate Chou Chiang-Chieh, third left, and supporters hold a banner outside the Hsinchu County Election Commission on Nov. 6. Chou won his bid for a seat on the Hsinchu County Council in the Nov. 29 elections.
Photo: Huang Mei-chu, Taipei Times
With more than a decade of experience in local environmental movements, Chou, 34, said he entered the race to bring constructive public debate to politics, as well as to represent the views of activist groups in the county council.
To provide a solution for the ailing economy of a town tucked into a narrow river valley, Chou envisions Jhudong — home to nearly 100,000 people — as a slow-paced tourist destination where visitors can enjoy the natural scenery and Hakka cultural heritage by bike.
Given that Hsinchu County's main city, Jhubei (竹北), boasts the strongest population growth in the nation as a result of the high-tech industry in the area, Chou said he is worried about an increasing amount of pollution in his hometown.
"It seems like Jhudong has become a destination for things unwanted in other places, like gravel excavation and a lot of waste disposal sites," Chou said.
"Things like that never stay in densely populated urban areas in Jhubei or Hsinchu City, so they move toward marginal locations," he said.
Chou's decision to enter the race was triggered by the failure of county councilors from Jhudong to help him when he tried to file a report about an illegal gravel excavation site.
Chou said he feels a responsibility to bring reform to local politics in the nation, which have long been criticized as being dominated by profit-seeking local political factions.
"What I place importance on is the process of public deliberation, because that is what truly enables grassroots democracy. I define my role as councilor as one of a catalyst," Chou said.
"I would not want a borough warden directly telling me about something he wants to get done. You would need to hold a town hall meeting first, before telling me the results of public discussion. The point is the process," he said.
Chou said that his experience as an exchange student in Heidelberg, Germany, strengthened his belief in the importance of political dialogue, citing institutional designs in German politics that encourage cross-party cooperation.
"When I was there, the local Green Party led the local coalition government," Chou said. "Since you're not a ruling party with more than 50 percent support, you need to encompass diverse opinions. A lot of time and effort is placed on communicating policy initiatives."
While politics in Taiwan have been characterized by a divide between the pro-independence and pro-unification camps, Chou sees the establishment of smaller parties as a way to promote more diversity within political institutions.
The growth of community organizations and civic groups could provide more diverse options for people to engage in public affairs locally, Chou said.
"In the past, local political factions might have seen profit as their main goal," Chou said. "We need local civic groups geared toward public issues to perhaps coexist with, if not entirely replace, traditional organizations right away."
Chou said he mainly received the support of young independent voters in the area, who were concerned about environmental issues that could affect their quality of life.
As a non-traditional candidate, Chou said he also won votes through sheer perseverance, demonstrated by his daily 30km bike trips around town.
He said he has long been inspired by 17th-century Dutch philosopher Baruch Spinoza and once led a study group at a local bookstore that focused on the philosopher.
"The first month I biked people thought I was a loony. The second month, people started smiling at me and the third month they started to say 'hello,'" Chou said.
"You must be determined in your values and ideals. That is what I learned from Spinoza," he said.
Comments will be moderated. Keep comments relevant to the article. Remarks containing abusive and obscene language, personal attacks of any kind or promotion will be removed and the user banned. Final decision will be at the discretion of the Taipei Times.