2014 ELECTIONS: Kaohsiung and Tainan's mayors win re-election
Greater Kaohsiung and Greater Tainan yesterday saw their political "status quo" maintained after incumbent Kaohsiung Mayor Chen Chu (陳菊) and Tainan Mayor William Lai (賴清德), both members of the Democratic Progressive Party (DPP), succeeding in being elected for a second term in office.
Chen received 993,300 votes, or 68.09 percent of the votes cast, while Chinese Nationalist Party (KMT) mayoral candidate Yang Chiu-hsing (楊秋興) received 450,647 votes, for 30.89 percent of the total.
Independent mayoral candidate Chou Ke-sheng (周可盛) received 14,925 votes, or 1.02 percent of the total.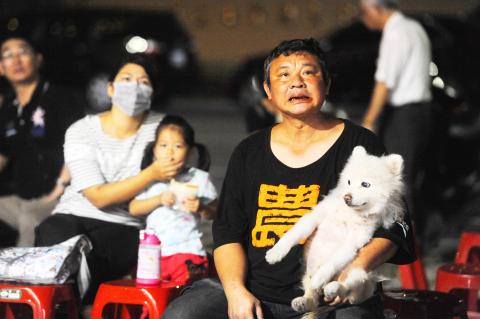 People sit outside Chinese Nationalist Party (KMT) Greater Kaohsiung mayoral candidate Yang Chiu-hsing's campaign headquarters in Kaohsiung yesterday. Yang was defeated by incumbent Mayor Chen Chu.
Photo: Chang Chung-yi, Taipei Times
Chen's votes had increased from 821,089 votes, or 52.79 percent of the total in 2010.
Chen said she would continue her policies of helping Greater Kaohsiung's transition to a more habitable city, maintaining district equality, increasing social welfare and helping industry become more innovative.
Chen also expressed gratitude to supporters for voting for her and being steadfast supporters of the DPP, and extended thanks to all of her campaign personnel as well, as she had been busy overseeing the rebuilding the city after the gas pipeline explosions in early August.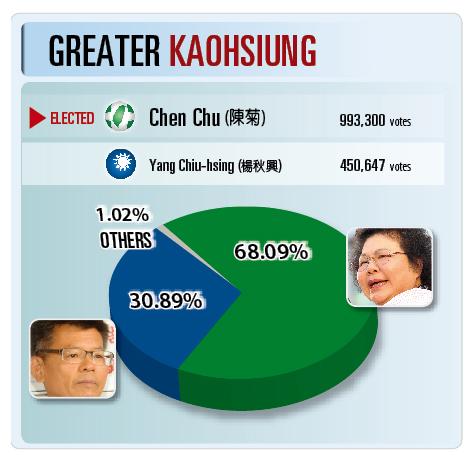 Graphic: TT
Meanwhile, Yang acknowledged that he lost the election and said it was "a severe setback," but said that he wished to thank the people of Greater Kaohsiung who had supported him.
In Greater Tainan, although the mayoral candidates' nominations of both parties had all but settled the question of who would win the election, the focus on the mayoral elections was instead on the number of votes that Lai would receive.
Though Lai's popularity in the city was expected, pundits said that the more votes Lai received, the more it would help his future career.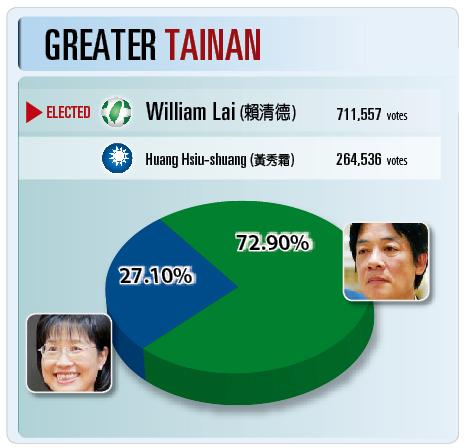 Graphic: TT
Greater Tainan election results concluded with Lai receiving 711,557 votes, or 72.9 percent of the votes, while the KMT's Huang Hsiu-shuang (黃秀霜) received 264,536 votes, or 27.1 percent of the total.
Compared with the results from the previous election in 2010, Lai's votes have increased by 91,660 from 2010's 619,897, and his support rate has increased by 12.49 percentage points from 60.41 percent.
Comments will be moderated. Keep comments relevant to the article. Remarks containing abusive and obscene language, personal attacks of any kind or promotion will be removed and the user banned. Final decision will be at the discretion of the Taipei Times.