TAINTED OIL SCANDAL: 'Take all tainted products off shelves': Jiang
Premier Jiang Yi-huah (江宜樺) has demanded that Cabinet officials ensure food products containing illegal cooking oil are removed from shelves by tomorrow, Executive Yuan spokesperson Sun Lih-chyun (孫立群) told a press conference yesterday.
The conference followed a meeting called by Jiang to discuss measures in response to the latest food safety scare sparked by the use of oil recycled from various sources, such as discarded kitchen waste and grease used to clean leather, being mixed in with cooking oil.
Jiang instructed the Ministry of Health and Welfare to release as soon as possible a thorough list of all food items manufactured by 235 food companies that have purchased the problematic oil, branded as "Chuan Tung fragrant lard oil" from Chang Guann Co (強冠企業), Sun said.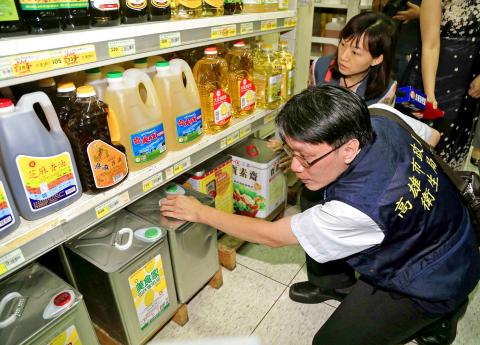 Workers from the Greater Kaohsiung Department of Health inspect a supermarket to ascertain whether tainted lard oil from Chang Guann Co had been removed from the shelves in Kaohsiung yesterday.
Photo: CNA
Chang Guann Co was one of the food manufacturers found to have blended oil recycled by an unlicensed factory in Pingtung County with lard oil. The factory also sold tainted oil to Ching Wei Co, an animal feed manufacturer.
Jiang has ordered that all the products on the list be taken off store shelves and sealed by tomorrow, Sun said.
Sun quoted Jiang as saying that the Ministry of Justice and related authorities must doggedly trace the sources of the tainted oil and their distribution channels and punish those responsible severely, in accordance with the Act Governing Food Sanitation (食品衛生管理法), the Waste Disposal Act (廢棄物清理法), the Feed Control Act (飼料管理法) and the Criminal Code.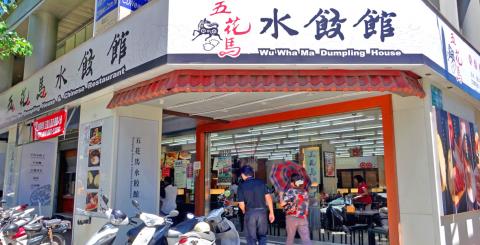 People walk past a branch of the Wu Wha Ma Dumpling House in Taipei yesterday. The chain was found to have used tainted lard oil from Chang Guann Co.
Photo: Liu Hsin-de, Taipei Times
Jiang said he felt heart-wrenched over food manufacturers using inedible materials in conspiring for profits, according to Sun.
To set the public at ease, the Ministry of Health and Welfare, which has commissioned a group of experts to examine the health implications of consuming the illegal cooking oil, should reveal the results of its study once it is complete, Sun said.
Meanwhile, Jiang asked the Ministry of Education and the Ministry of National Defense to look into whether suppliers that provide meals to schools and the military also used the tainted cooking oil, Sun said.
The Ministry of Economic Affairs and the Ministry of Finance were tasked with checking the transportation routes of the problematic cooking oil products and coming up with measures to handle issues concerning foreign trading partners, Sun said.
Comments will be moderated. Keep comments relevant to the article. Remarks containing abusive and obscene language, personal attacks of any kind or promotion will be removed and the user banned. Final decision will be at the discretion of the Taipei Times.