KAOHSIUNG DISASTER: Blasts blamed on decades-old pipes
LIKE A TANK SHOT: A scientist said that the power of the explosion, estimated at 55,000 pounds per square inch, could have penetrated a concrete wall 5.5m thick
Experts say that a series of gas explosions in Greater Kaohsiung late on Thursday and early Friday morning might have been due to propene gas leaking from pipes that had rusted or were out of alignment after years of use.
Retired National Taiwan University department of chemical engineering professor Shih Hsin-min (施信民) said it is difficult to gauge the strength of the explosion without knowing the amount and density of propene involved.
The nature of the explosion might be changed if propene had come into contact with methane or ethylene, which can cause an explosion to "stack" due to the additional combustible gas, Shih said, adding that the total energy of the explosion would not be multiplied.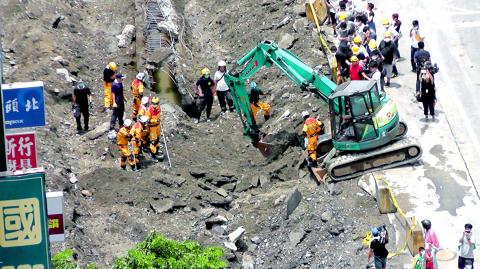 A handout photo provided by the National Airborne Service Corps Cabinet shows firemen work at a caved-in road caused by underground gas pipeline explosions in Greater Kaohsiung yesterday.
Photo: EPA
Commenting on white smoke seen by members of the public prior to the explosion, Shih said it could have been that colder-than-air propene caused vapor to coalesce, or it may simply have been nearby restaurants or hotels pumping out hot wastewater.
Shih said on-site inspections were necessary to determine the cause of the white smoke.
Shih said that the main cause of the explosion was due to multiple leaks in gas pipes.
Pipelines carrying propene gas should be airtight and secure as propene, being denser than air, can seep out of joints in pipelines if there are even the smallest holes, Shih said, adding that sometimes gaps can develop due to rusting.
Any source of fire, even small sparks, can set off propene, and any explosion from another source can cause other pipes to leak more propene, causing a chain reaction of explosions in a given area, Shih said.
If this week's explosion is due to the age of the pipes, the government should inspect all the pipelines that were put down in the same year to avoid further disasters, Shih said.
National Taiwan University of Science and Technology department of chemical engineering professor Liu Chih-cheng (劉志成) said that many of the nation's pipelines are old and should be replaced, adding that some sections of pipeline had been laid down in the Japanese colonial era.
The government should make a thorough inspection of the petrochemical pipelines in Greater Kaohsiung as well as Mailiao Township (麥寮) in Yunlin County, Liu said.
Liu said that although propene was a basic material in the petrochemical industry, it was also quite combustible.
Professor Wu Chia-cheng (吳家誠) of National Taiwan Normal University's Department of Chemistry said that the blasts were comparable to a shell launched from the main gun of a tank.
If a car weighed 1,600kg and the height of a three-story tall building was 15m, implementing the mass plus velocity equation would put the peak amount of energy of the explosion at more than 55,000 pounds per square inch (PSI), Wu said.
Average atmospheric pressure is about 14.7 PSI at sea level, but a force equating to 2,500 PSI would be able to penetrate a wall 25cm thick, Wu said, adding that with a force of 55,000 PSI the explosion could have penetrated a concrete wall 5.5m thick, roughly equivalent to a shell launched from a tank.
Wu said that that propene would have filled the sewers as it was heavier than air, adding that once it reached critical mass it would have sought a weak point in the roads for release.
The initial blast would have sent shockwaves into nearby gas lines, causing further blasts to occur, Wu said.
Comments will be moderated. Keep comments relevant to the article. Remarks containing abusive and obscene language, personal attacks of any kind or promotion will be removed and the user banned. Final decision will be at the discretion of the Taipei Times.