KAOHSIUNG INFERNO: Grim scenes at hospitals, funeral parlor
While the destruction caused by the series of gas explosions left Greater Kaohsiung streets looking much like a war zone, battle scenes extended to hospital emergency rooms around the city.
The Greater Kaohsiung Government launched its mass casualty response program early yesterday morning, preparing hospitals for the wounded making their way in and for those who were going from one hospital to another, looking for family members.
According to the Ministry of Health and Welfare, the casualties were sent to more than 20 hospitals, including Kaohsiung Medical University Hospital, Veterans' General Hospital, Chang Gung Memorial Hospital, Yuan's General Hospital, the Armed Forces General Hospital and Kaohsiung Municipal United Hospitals.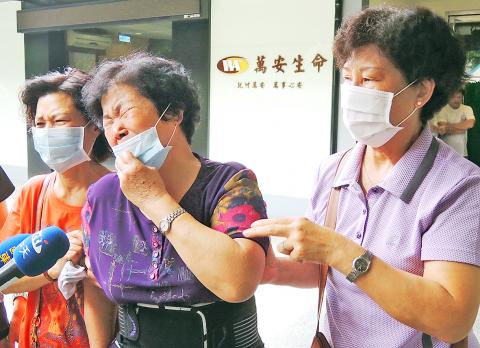 Relatives of deceased fire marshal Huang Kuo-tung cry while talking to the press in Greater Kaohsiung yesterday.
Photo: Lo Hsin-chen, Taipei Times
Most of the injured suffered cuts and burns, the ministry said.
Meanwhile, people were tearful and emotional as they identified their loved ones at the Kaohsiung Municipal Funeral Parlor, some of them venting their anger at officials on the scene, criticizing the government for not doing enough in the rescue effort.
The mother of a victim surnamed Yang (楊) arrived at the funeral parlor with her two sons, and was so overcome by grief she could not stand on her own. She said her daughter ran into an explosion on her way home from work and died instantly.
A man surnamed Hung (洪) mourned his brother-in-law's wife, who was killed by an explosion on her way home, saying that "this would not have happened to her if she got off work earlier."
Many people who arrived quickly at the funeral parlor after being notified of their family members' deaths had to wait hours before seeing the bodies of their loved ones.
Greater Kaohsiung Government Mortuary Services Office Director-General Cheng Ming-hsing (鄭明興) became the target of criticism when he arrived.
Many victims' families complained that the government did not put enough resources into the rescue effort.
One man, in tears, said a member of his family had been pinned under a big rock, and it took him several hours to remove the rock on his own with his bare hands, with no help from rescuers or officials.
"Who could bring my family back alive?" he shouted.
Comments will be moderated. Keep comments relevant to the article. Remarks containing abusive and obscene language, personal attacks of any kind or promotion will be removed and the user banned. Final decision will be at the discretion of the Taipei Times.