Kinmen county chief freed after questioning
IRREGULARITIES? Li Wo-shi is the highest-ranking official to be implicated in the case, in which Kinmen Kaoliang Liquor Inc is suspected of 'favoring' a certain company
Kinmen County Commissioner Li Wo-shi (李沃士) and his wife, Su feng-ying (蘇鳳英), were released without bail yesterday morning after being called in for questioning on Thursday over their alleged role in the county government-owned Kinmen Kaoliang Liquor Inc's controversial change of distributor in 2010.
The scandal has twice caused an uproar in the Kinmen County Council, with the liquor company's original distributors filing a lawsuit against Kinmen Kaoliang Liquor Xiamen Trading Co for unilaterally changing its Chinese distributorship in September 2010.
The company announced that it was revoking the licenses of all Chinese distributors that year and appointing Cai Rui Trading Co as its sole distributor for three years, the original distributors said, adding that they could not accept how Kinmen Kaoliang Liquor made no attempt to negotiate with them.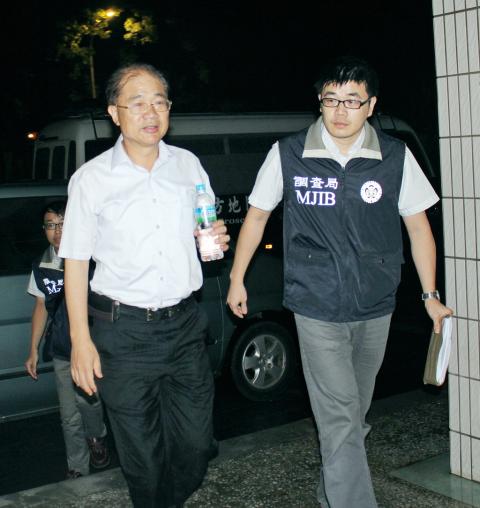 Kinmen County Commissioner Li Wo-shi walks into the Kinmen District Prosecutors' Office yesterday for questioning regarding his possible involvement in government-owned Kinmen Kaoliang Liquor Inc's controversial change of distributor in 2010.
Photo: CNA
Other than Li and Su, Cai Rui parent company Firich Enterprises Co president Hsu Ming-che (徐明哲), Cai Rui Trading stock holder Huang Hsi-wen (黃希文) and Kinmen Kaoliang Liquor Xiamen Trading deputy general manager Chang Tung-pin (張東賓) were also questioned by Kinmen prosecutors. Hsu was released on bail of NT$1 million (US$33,372), while Huang and Chang each posted bail of NT$500,000.
The company said it chose Cai Rui as its sole distributor in China to standardize its sales operations and reduce the rampancy of fake Kaoliang in the Chinese market, the office said.
However, Kinmen County Councilor Lee Cheng-yi (李成義) questioned the company's decision to employ Chang and the company's general manager Yao Sung-ling (姚松齡), as well as Kinmen Kaoliang Liquor Xiamen Trading general manager Chen Tsung-wen (陳聰文), saying they were not graduates or experts in the liquor business.
Lee said he wondered if the company intentionally used people favored by Firich, with Chang being reassigned to Firich's subsidiary in Beijing.
Kinmen Kaoliang Liquor's contract also set a sales target for Cai Rui of 60 million yuan (US$9.69 million) in the first year, 80 million yuan in the second year and 100 million yuan in the third year, the Kinmen District Prosecutors' Office said.
Kinmen prosecutor Huang Ho-tsun (黃和村) said that Cai Rui did not meet Kinmen Kaoliang Liquor's sales target for the first year, but Kinmen Kaoliang Liquor claims that it did, by allowing Cai Rui to book the full amount as revenue, even for products sold at a discount.
As Kinmen Kaoliang Liquor is a owned by the county government, critics say it is hard to believe that the county commissioner was unaware of the irregularities going on at the company.
Whether Li had instructed the company to change its policies and whether his wife had acted as a messenger between the two parties are being investigated, Huang Ho-tsun said.
Li is the highest ranking official implicated in the case. A member of the Chinese Nationalist Party (KMT), Li is seeking re-election in the Nov. 29 elections.
Comments will be moderated. Keep comments relevant to the article. Remarks containing abusive and obscene language, personal attacks of any kind or promotion will be removed and the user banned. Final decision will be at the discretion of the Taipei Times.