Ex-minister calls for 'effective governance'
DIALOGUE: Lee Hong-yuan underlined the need for communication between local governments and officials and the public to formulate effective national policies
Local governments should pursue "effective governance," former minister of the interior Lee Hong-yuan (李鴻源) said in a recent interview with the Chinese-language Liberty Times (the Taipei Times' sister newspaper).
"There is so much a local government can do. The biggest problem with Taiwan is the flawed strategic planning of municipal policies, which in turn causes trouble when they are implemented," said Lee, who stepped down as minister in February and was viewed as a potential New Taipei City mayoral candidate for the Chinese Nationalist Party (KMT) before incumbent Eric Chu (朱立倫) announced his re-election bid.
"The central government lacks advisers that it can consult on the nation's strategic policymaking and the ensuing regional integration," he said.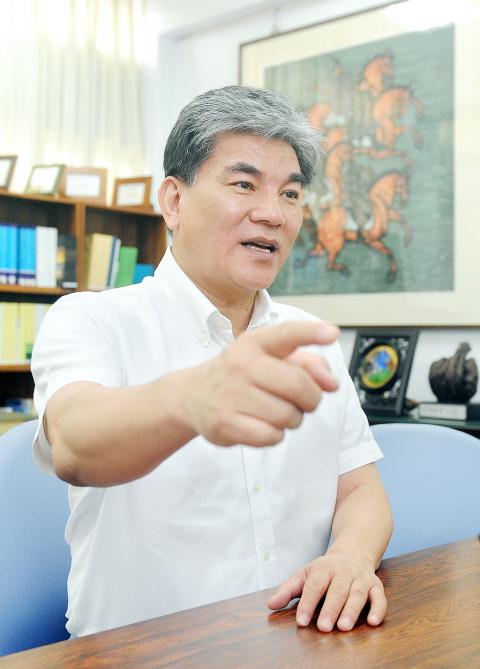 Former minister of the interior Lee Hong-yuan gestures during an interview on June 18.
Photo: Liao Chen-huei, Taipei Times
Citing Keelung as example, Lee said the city, which has a population of only 400,000, has to look to Taipei and New Taipei City before planning its infrastructure, so as to avoid unnecessary expenditure.
However, Taipei rarely discusses anything with New Taipei City before it embarks on an infrastructure project, he said, adding that insufficient communication between the two metropolises nearly resulted in the establishment of two national theaters a five-minute drive apart from each other.
About one-third of the infrastructure plans of Taipei and New Taipei City are the same, he said.
The three northern municipalities need to work closely together and carry out comprehensive planning so that the Greater Taipei area can stand a better chance of competing with international metropolises such as Shanghai, Hong Kong, Singapore and Seoul, Lee said.
Similarly, all other municipalities, including outlying islands, need to identify their roles in the overall strategic planning of national policies according to their strengths rather than copying one another, he said.
For example, Greater Taichung should make use of its position as the municipality closest to China, while Greater Kaohsiung could be the nation's springboard for tapping Southeast Asian markets, he said.
They each serve a different purpose and thus should have different city policies and infrastructure, he added.
"Is it really necessary to have so many municipalities in such a small nation? The key is effective governance," he said.
Lee also stressed the importance of "cross-sector dialogue," citing as an example the Jhonggang drainage project, which he sprearheaded during his stint as Taipei County deputy commissioner.
Aside from gathering officials from the Department of Transportation, the Department of Health and hydraulic engineers to discuss the initiative, he said he hosted more than 100 policy forums with historians and cultural experts, as well as residents of Sinjhuang (新莊) to keep them informed about the details and benefits of the project.
At first, residents fiercely opposed the project when they heard that it would cost them 400 parking spots, "so I found 300 new ones for them within two months," Lee said.
"Furthermore, I uploaded every detail about the drainage project onto the Internet to ensure transparency, and set a seven-day time limit for relevant agencies to answer queries from the general public. It was on that same platform that the heads of departments exchanged their opinions," he said.
"It was a learning experience for both the residents and civil servants of Sinjhuang," he aded.
Asked whether Taipei needed another reservoir like the legendary Liugongjun — a canal system which once covered the city's water transportation and irrigation system — he responded, as if offering advice to local governments today: "Why don't you ask Taipei residents?"
Comments will be moderated. Keep comments relevant to the article. Remarks containing abusive and obscene language, personal attacks of any kind or promotion will be removed and the user banned. Final decision will be at the discretion of the Taipei Times.