Cartoonist embroiled in scandal over alleged affair
Popular cartoonist "Wan Wan" (彎彎) made a public apology to her legions of fans yesterday, after reports of an alleged extramarital affair made the news.
Wan Wan, whose real name is Hu Chia-wei (胡家瑋), faced the media in Taipei at about noon, and bowed in apology. Wearing a mask over her mouth, she refused to speak or answer questions from journalists, as the publisher of her books read out her written statement.
She attended a previously scheduled promotional event in the afternoon, where she also refused to answer reporters' questions about the alleged affair, less than three weeks after her high-profile marriage on May 17, which was extensively covered by the press.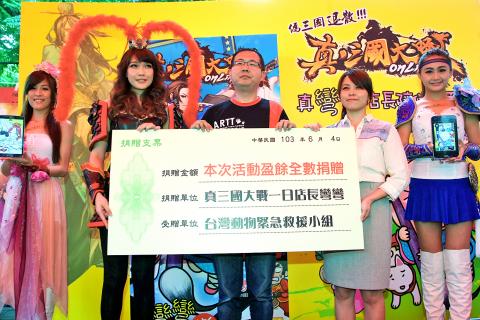 Cartoonist Wan Wan, second right, is seen at a press conference for an online game in Taipei yesterday.
Photo: CNA
At the end of the promotional event, she ran to catch a taxi after being pursued by photographers and reporters, and was seen covering her face with tears in her eyes.
Highly popular with the younger generation for her humorous cartoons, which are widely posted on social media, the 32-year-old Wan Wan is a celebrity who has appeared in TV commercials and had a guest role in the hit 2011 movie You Are the Apple of My Eye (那些年,我們ㄧ起追的女孩).
The revelation of the alleged extra-marital affair is said to have done irreparable damage to her clean, wholesome image, and many of her fans wrote to express their shock and disappointment at the news.
In the Chinese-language Next Media Weekly yesterday, paparazzi photographs showed her out with a man surnamed Huang (黃), who is reported to be her old flame of some years ago.
Wan Wan and Huang, who is a fellow blogger and cartoonist, were seen dining together, enjoying each other's company and kissing, before they took a night drive to a mountain park on the outskirts of Taipei, according to the report.
Taiwan's online communities were abuzz over the "Wan Wan affair" yesterday.
Many netizens said they were shocked, especially because she is a newlywed.
"Wan Wan should apologize to her husband, and not to us," one wrote.
"If this is true, then she should get a divorce. She has set a very bad example to others," another posted.
Some of her fans defended her, saying that it was Wan Wan's private business, which was probably a misjudgement on her part, but that they would continue to support her.
Other netizens lamented what they described as a breakdown of morality in society, saying that by carrying on secret liaisons with another man, "she is ruining the sacred tradition of marriage."
Another disappointed fan surnamed Chang wrote: "I used to be a big fan of yours, and bought many of Wan Wan's funny cartoons. It's very disappointing to read about your news. I will not be able to view your cartoons in the same way as before."
Comments will be moderated. Keep comments relevant to the article. Remarks containing abusive and obscene language, personal attacks of any kind or promotion will be removed and the user banned. Final decision will be at the discretion of the Taipei Times.