Show features tech, medical advances
'TAIWAN REVEALED': From a leading microsurgeon to the world's first transparent smartphone, a program on Discovery Channel highlights Taiwan's achievements
The Discovery Channel yesterday said it would present a new series of documentaries that showcase Taiwan's achievements in medicine, agriculture and industrial innovation.
The three-episode program, which was made in cooperation with the Ministry of Foreign Affairs, is to premiere tomorrow, Arjan Hokstra, president and managing director of Discovery Networks Asia-Pacific, told a press conference in Taipei.
The first episode, titled Taiwan Revealed: Body Reconstructed, focuses on Taiwanese microsurgeon Wei Fu-chan (魏福全) and his team at Chang Gung Memorial Hospital's plastic reconstructive surgery department.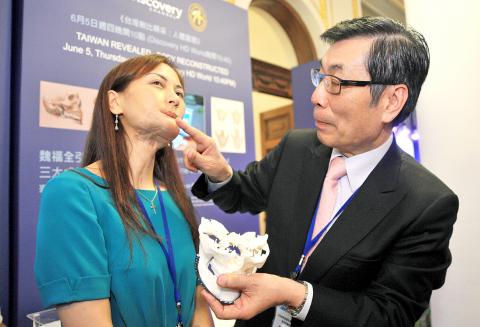 Microsurgeon Wei Fu-chan, right, explains how he built a new jaw for Manila hijack gunshot victim Yik Siu-ling, left, while promoting a new Discovery Channel series in Taipei yesterday.
Photo: Liu Hsin-de, Taipei Times
Wei, among the world's top plastic and reconstructive surgeons, has provided surgical treatment to peopled injured at work or those needing craniofacial reconstruction, among others.
The episode features how Wei and his team treated three people and helped restore their dignity. The patients include a Taiwanese man who lost 10 fingers in an accident and a Hong Kong woman who lost her lower jaw from a gunshot.
Another episode, Taiwan Revealed: Convenient Truths, scheduled to air on Thursday next week, showcases cutting-edge agricultural innovations in Taiwan, the channel said.
Among the featured stories are a high-tech LED lighting system that helps produce beautiful water bamboo in Nantou County, a prewarning system for fruit flies that protects guava farms in Changhua and the invention of a membrane that can recycle and reuse industrial water.
The final documentary in the series, Taiwan Revealed: Innovation Island, is to air on June 19. Featured stories include the world's first transparent smartphone, which was introduced by a Taiwanese company, and the use of coffee grounds to produce odor-resistant fabric.
At the press conference, Hokstra said that "this year marks Discovery Channel's 20th anniversary in the Asia-Pacific."
As part of the channel's efforts to tell local stories from a global perspective, the channel has worked with the ministry to produce several documentary series on Taiwan over the past 10 years, he added.
President Ma Ying-jeou (馬英九) and many Taiwan-based foreign officials attended the press conference, during which video clips from the programs were shown.
Ma praised Discovery Channel's role in helping promote Taiwan on the international stage and recommended that the channel also produce documentaries featuring outstanding Taiwanese such as Lien Jih-ching (連日清), a specialist in mosquito-borne diseases who has played an important role in combating malaria.
The Taiwan Revealed series will be aired in 36 countries and territories across the Asia-Pacific region this month and next, the channel said.
Comments will be moderated. Keep comments relevant to the article. Remarks containing abusive and obscene language, personal attacks of any kind or promotion will be removed and the user banned. Final decision will be at the discretion of the Taipei Times.