Chu mum about presidential bid
New Taipei City Mayor Eric Chu (朱立倫) yesterday downplayed a media report saying he was to announce at the end of this month that he was not standing for re-election to pave the way for a presidential bid.
"Everything will be carried out in accordance with the Chinese Nationalist Party's [KMT] plan and I will announce my decision [on whether to seek re-election] when the time is right," Chu said in response to reporters' questions on the sidelines of a meeting on city affairs yesterday morning.
Chu said that while "certain people and media" seemed to be fixated on the issue, fulfilling his duty as mayor would always remain his top priority.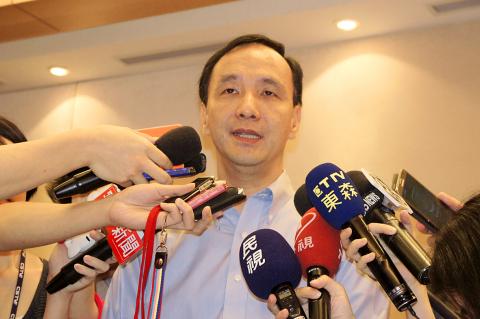 New Taipei City Mayor Eric Chu talks to the press yesterday, downplaying a media report that he is to announce at the end of this month that he will not be standing for re-election to pave the way for his presidential bid.
Photo: Lai Hsiao-tung, Taipei Times
"All I care about now is the things that matter to city residents, such as how junior-high school students who recently took the Comprehensive Assessment Program are going to fill their school preference forms," Chu said.
"Talking about elections now will only annoy people," he added.
Chu was responding to a story by the Chinese-language newspaper China Times yesterday, which quoted a source as saying that Chu planned to announce his decision on May 28 and that he would most likely not seek re-election.
A former legislator, Taoyuan County commissioner and vice premier, Chu is widely believed to be one of the KMT's presidential hopefuls — along with Taipei Mayor Hau Lung-bin (郝龍斌), Greater Taichung Mayor Jason Hu (胡志強) and Vice President Wu Den-yih (吳敦義).
The decision by President Ma Ying-jeou (馬英九), who doubles as KMT chairman, to appoint Chu, Hau and Hu as party vice chairmen earlier this month has added fuel to the rumors.
Chu has reportedly been advised against seeking re-election as New Taipei City mayor because if he were re-elected, he would have only a few months to devote to his mayoral duties before launching his presidential bid, which could displease his constituency and become an Achilles' heel, the paper said.
The next New Taipei City mayor is to be elected during the Nov. 29 seven-in-one elections and is to assume office on Dec. 25. The presidential election is to be held in the early part of 2016.
Ma also downplayed the issue during a press conference following a speech he gave to mark the sixth anniversary of his inauguration at Greater Taichung's China Medical University.
"I think we will soon know the answer, but I am not at liberty to disclose anything at the moment," Ma said in response to reporters' questions.
Hau also declined to give an unequivocal answer when asked if he plans to join the KMT's presidential primary after completing his second mayoral term at the end of this year.
KMT Taipei City Councilor Chin Hui-chu (秦慧珠) asked the mayor at a question-and-answer session at the Taipei City Council yesterday afternoon whether he would join the KMT primary and whether he was confident of winning the presidential election.
"I cannot answer hypothetical questions. All I want to do now is to do my job," Hau said.
Comments will be moderated. Keep comments relevant to the article. Remarks containing abusive and obscene language, personal attacks of any kind or promotion will be removed and the user banned. Final decision will be at the discretion of the Taipei Times.