Ko sounds off at book event
Taiwan is not democratic since the political power structure reproduces itself and is in the hands of just a few families, Taipei mayoral aspirant Ko Wen-je (柯文哲) said.
Ko made the remarks at a book launch for Chinese dissident writer Yuan Hongbing's (袁紅冰) latest, Taiwan Shengsi Shu — Taiwan Book of Death.
Ko praised the Sunflower movement, but also offered critiques.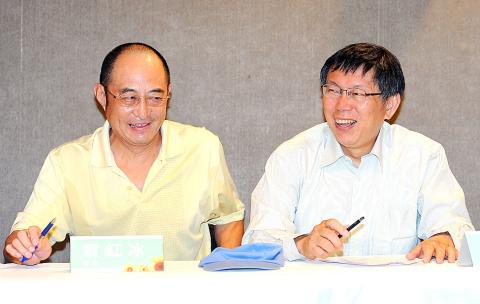 Chinese dissident writer Yuan Hongbing and Taipei mayoral hopeful Ko Wen-je laugh during a book launch in Taipei yesterday.
Photo: Liao Chen-huei, Taipei Times
"There were no clear causes during the movement. The slogans were mostly 'anti-' something, such as the anti-service trade pact and the [later] anti-Fourth Nuclear Power Plant, while we need positive listing of our values," Ko said.
Calling President Ma Ying-jeou's (馬英九) so-called "92 consensus" a scam, Ko said that a "Taiwan consensus," echoing former Democratic Progressive Party chairwoman Tsai Ing-wen (蔡英文), is the nation's best direction.
"It should be based on the nation's fundamental, core values, and I believe they are democracy, freedom, the rule of law, human rights, care for vulnerable groups and sustainable development," he said.
He questioned the manifestation of these values in the nation, saying: "If Taiwan is a democratic country, my father wouldn't have been that afraid when I said I'm running for office. He said he didn't want to lose a son after losing his father in the 228 Incident."
"And while in a democracy, politics should be shared by the people, we now have all those second-generation of the rich and the powerful hogging the social and political stage, like it is in China," he said. "From Ma through Taipei Mayor Hau Lung-bin (郝龍斌) to Chinese Nationalist Party [KMT] mayoral candidate Sean Lien (連勝文), are they not all second-generation politicians? Some are even third-generation, almost like North Korea."
"Freedom? We don't even have the freedom to donate," he said, referring to government claims that personal financial donations to the student protest were illegal.
Ko also panned KMT policy on the Fourth Nuclear Power Plant, saying that as a surgeon at National Taiwan University Hospital, "I can assure you that there is no plan in place for a nuclear disaster," adding, "The KMT treats this place as a hotel without the idea of perpetual and sustainable development. That's why they opt for the plant."
Comments will be moderated. Keep comments relevant to the article. Remarks containing abusive and obscene language, personal attacks of any kind or promotion will be removed and the user banned. Final decision will be at the discretion of the Taipei Times.