Poet Chou Meng-tieh dies aged 92 from pneumonia
Renowned poet Chou Meng-tieh (周夢蝶) died in New Taipei City on Thursday at the age of 92 from complications associated with pneumonia.
Along with his poetry, Chou was known for his monk-like habits, which he adopted after immersing himself in Buddhism later in life.
Born in China's Henan Province in December, 1921, Chou's original name was Chou Chi-shu (周起述).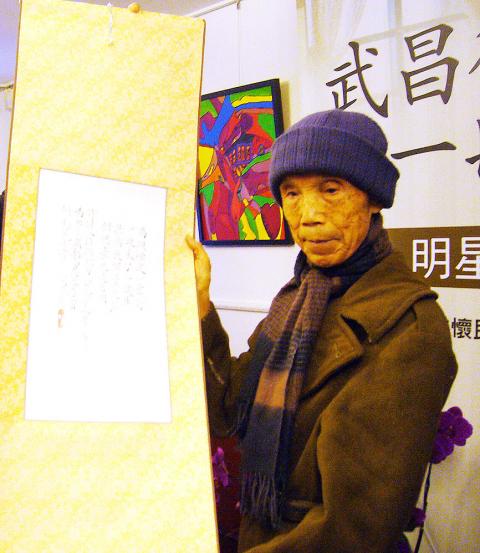 Poet Chou Meng-tieh is pictured in an undated photograph.
Photo: CNA
During the Chinese Civil War, he joined the Chinese Nationalist Party (KMT) youth corps and came to Taiwan in 1948 after the KMT lost the Chinese civil war.
He was separated from his family, including his grandparents, mother, wife and children, who all remained in China.
However, after five decades apart, Chou revisited his hometown.
At 32, Chou began to write poetry, which was published in the literary pages of Central Daily News and Young Soldier Daily (the forerunner of Youth Daily News).
In the 1950s, Chou became a member of the Blue Star Poetry Society (藍星詩社), an influential gathering of mostly Chinese poets and writers.
In 1959, Chou began selling poetry and literature in front of Cafe Astoria on Wuchang Street (武昌街) in central Taipei, which was a favorite hangout of intellectuals at the time.
That year, he published a collection of poems, entitled Gudu Guo (孤獨國, Lonely Land), which is his most well-known work.
Later in life, Chou delved into Buddhism and took up Zen meditation.
A picture of Chou sitting on a street corner, quietly meditating, became one of the symbolic images of an era, showing a literary man's solitude against the backdrop of Taipei's hustle and bustle.
Inspired by Confucian tradition and philosophy, Chou did not pursue material gains and lived a simple life, alone, throughout his adult life.
As a poet, Chou picked up the nom de plume of "Meng-tieh" (夢蝶), which means the "dream butterfly."
He said it was inspired by Taoist master philosopher Chuang-Tze's (莊子) famous tale about a butterfly dream.
The name is reflects his yearning for freedom, as well as his frugal, restrained way of living.
Highly regarded in Taiwan's cultural circles, Chou was named the first literature laureate of the National Culture and Arts Foundation in 1997.
Hung Chung-hao (洪崇豪), spokesperson for the Buddhist Tzu Chi General Hospital in New Taipei City's Xinzhuang District (新莊) where Chou was treated, said that Chou did not have any relatives in Taiwan.
Instead, many of his student followers are helping to arrange the funeral in accordance with Buddhist traditions.
On the news of Chou's death, the Ministry of Culture released a statement and requested that the Presidential Office issue posthumous honors for Chou.
Comments will be moderated. Keep comments relevant to the article. Remarks containing abusive and obscene language, personal attacks of any kind or promotion will be removed and the user banned. Final decision will be at the discretion of the Taipei Times.