FEATURE: Volunteer works to protect students
When the Sunflower movement started on March 18 with students occupying the main chamber of the Legislative Yuan in Taipei, a number of temporary provision depots were set up outside the building.
One of these depots, run by the 37-year-old Tung Te-yu (董德堉), stood out from the rest, because it was the only one established and operated entirely by volunteers with no connection to the student-led protesters.
Tung, a student at the Chinese Culture University's Institute of Political Science, said that he went to the Legislative Yuan on March 19 after hearing how student leaders Lin Fei-fan (林飛帆) and Chen Wei-ting (陳為廷) had led students in occupying the legislative chamber the day before in protest against the government's handling of the cross-strait service trade pact.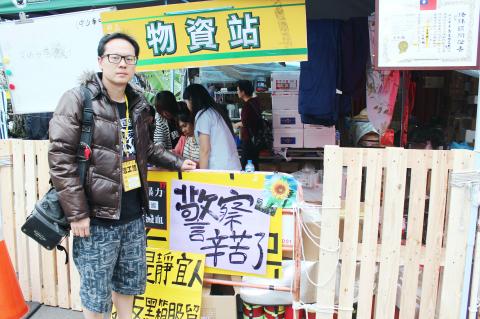 Tung Te-yu, 37, stands in front of his temporary provision depot in Taipei on Friday. He established and was responsible for the depot during the recent Sunflower movement protest at the Legislative Yuan.
Photo: Chen Hui-tzu, Taipei Times
Tung said once he was sure the students occupying the chamber were safe, he felt that those sitting outside the legislature were in need of more "looking after" because they were more vulnerable, compared with the relatively stable situation inside the chamber.
Working together with lawyer Tsai Yi-yu (蔡易餘) and independent Taipei mayoral candidate Ko Wen-je's (柯文哲) campaign office director Chang Yi-chan (張益贍), Tung set up a small tent on the corner of Zhongshan S Road and Qingdao E Road, close to the legislature.
The three men asked friends for donations and managed to collect NT$100,000 (US$3,308) each.
Tung used the money to rent a microphone, amplifiers and a mobile stage, to be used during the day by students to make speeches, or by experts and academics who the students invited to the protest site to give talks. At night, the platform and equipment were used to screen anti-nuclear protest videos or other civic-themed videos. Tung was also responsible for setting up the huge screen at the March 30 rally on Ketagalan Boulevard in Taipei.
Tung said he initially planned to stay outside the Legislative Yuan for about a week to 10 days, but after 10 days the money he raised at the start of the protest had mostly been spent and what was left was not enough to continue renting the microphone, stage and amplifiers.
"My decision to stay put was made because the students would be better protected — there were rumors of biker gangs threatening to harrass the crowd — if I stayed," Tung said, adding that the students had also asked him to stay.
Tung said he continued to ask for donations so he could pay for the microphones and sound system.
His small tent, which at first was a temporary station from where students' thoughts and speeches were broadcast to those gathered in the area, quickly turned into a repository for provisions.
Tung said this happened because many people who donated goods and provisions through online purchases had given the delivery address merely as "Qingdao East Road." Tung's tent was the closest to Qingdao E Road that the delivery men could find and after a while, when the amount of delivered goods became overwhelming, he set up two more tents to serve as a distribution center.
"I originally started with four to five people helping out at the broadcasting station, but ended up with more than 200 volunteers who sorted and distributed donated goods," Tung said.
Despite working closely with the demonstrating students, Tung was a volunteer and never officially a part of the protest. However, his volunteering meant he also had to live at the depot. Every day he had to receive the breakfasts ordered for students by supporters and see to their distribution, then clean up around the depot and help with folding up students' bed rolls and blankets, and then handle the distribution of lunch and dinner.
Apart from regular meals, supporters also sent mid-afternoon and midnight snacks, Tung said.
"The Sunflower movement taxed the will and determination of the students. I tried a little bit here and there to help liven up the atmosphere and make it easier for the students to maintain their protest," he said.
He added that torrential rains that fell on some days had caused a number of students to pack up their things and head home, which led to him asking for donations for tents because he wanted the students to continue their protest, but did not want to see them suffer in the sun or rain.
"We received 10 tents, which we set up for the students so they could continue their sit-in protected from the ravages of nature," Tung said.
In another effort to help enliven the atmosphere, Tung put up a tree made from bananas, arranged to look like a sunflower. The move was a silent rebuke of former Chinese Nationalist Party (KMT) legislator Chiu Yi (邱毅), who during a political talk show on TV pointed to photographs of the legislative chamber that showed the podium decorated with sunflowers and insisted that they were bananas.
Tung said he once had to ask donors — after receiving 5,000 lunch boxes — that instead of sending a lot of food at the same time, they should send their donations in batches because they would be easier to distribute and the food would last longer.
"The students are brave and going through hard times in order to achieve social justice, and I could only help them by staying with them," Tung said, adding that he "hoped to become, along with other supporters, the guardians of these brave students."
Comments will be moderated. Keep comments relevant to the article. Remarks containing abusive and obscene language, personal attacks of any kind or promotion will be removed and the user banned. Final decision will be at the discretion of the Taipei Times.